Things to Do in the Seward Area
Published by Hope Nelson 2 months ago on Tue, Sep 12, 2023 11:52 AM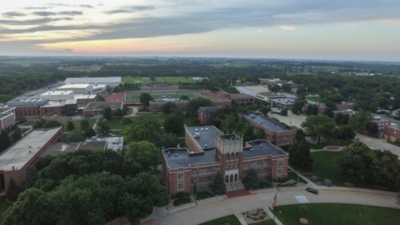 Seward, Nebraska may be a small town, but it is lively and is home to some of the area's most unique attractions and activities. Below are some of the highlights of Seward County, with attractions that are loved by Concordia students and community members alike!
Neutral Grounds
For coffee lovers and non-coffee-lovers alike, Neutral Grounds is the place to be in Seward. With its friendly atmosphere, comprehensive menu and unique array of art and décor, Neutral Grounds is a coffee shop with personality. The shop's menu consists of basic drinks, – with and without coffee – seasonal drinks, a create-your-own toast option, and various bakery items. Customers can take drinks to-go or can sit in the dining area and study, read, play games or even let their kids play in the children's area.
Neutral Grounds is located at 147 S. 6th Street in Seward; it is open from 7:30 a.m. to 2:30 p.m. and 5-9 p.m. on weekdays, and 7:30 a.m. to 2:30 p.m. on Saturdays.
The Rivoli
Whether you want to see a newly released movie that is still in theaters or an old favorite film, The Rivoli theater, located at 533 Main Street in Seward, is the perfect place to spend your Friday evening. Tickets, concessions, and movie rentals are reasonably priced, and tickets for any Tuesday showings are only five dollars! Showings range from just-released blockbusters to screenings of classic films like Titanic. The Rivoli provides visitors with a cozy, home-like atmosphere without sacrificing any of the appeals of a modern theater.
Main Street Market (Milford, Nebraska)
If you are looking to take a short road trip on a Saturday afternoon, Main Street Market in Milford, Nebraska is just twelve miles south of Seward. The market has a deli with meats and premade sandwiches and salads, along with several aisles of bulk goods like candy, trail mixes and baking products. It also carries locally produced and homemade goods, drinks, snacks and even home décor. The market is open from 9 a.m. to 6 p.m. on weekdays and 8 a.m. to 3 p.m. on Saturdays.
Plum Creek Trail
For those who love the outdoors, Plum Creek Trail and Garden Area, located on the east side of Seward, is a wonderful place to run, jog, walk, or bike on a sunny afternoon. The trail, which was completed in 2003, is 2.7 miles long and completely paved. Its ends are located near Plum Creek Sports Complex and the water treatment facility on South Columbia Avenue. At the end near the sports complex, the trail leads into a garden area created in 2004. Various flowers, trees and shrubs make the garden an inviting and visually appealing location.
Marxhausen Gallery of Art
Concordia University, Nebraska's Marxhausen Gallery is a Seward attraction located right here on campus. Open from 11 a.m. to 3:30 p.m. on weekdays and 1-4 p.m. on weekends, the gallery hosts a wide variety of art exhibits during each academic year, from collections of children's book illustrations to annual student exhibitions. Reinhold Marxhausen, after whom the gallery is named, was Concordia's first art department chair and a prolific arts educator who left a significant impact on the Concordia community. The gallery hosts a permanent collection, along with rotating art exhibits and gallery talks that accompany these exhibits.
The Olde Glory Theatre
Located in one of Seward's oldest churches, – built in 1872 and relocated to its current location in 1902 – the Olde Glory Theatre is a cozy theatre that hosts shows both from the community and put on by Concordia's theatre department Since 2013, the theatre has hosted many family-friendly entertainment options, including Concordia's 2022 presentation of Shakespeare's Twelfth Night and annual shows hosted through its partnership with the Missoula Children's Theatre.
The Olde Glory Theatre is the perfect place for people of all ages to come together and enjoy quality entertainment in a comfortable setting and at a low cost. Many shows offer concessions, dessert, or even dinner!
The World's Largest Time Capsule
Right now, this attraction stands as a large white pyramid just off Hillcrest Avenue in Seward – so if you want to visit it this year, the World's Largest Time Capsule may strike you as a bit underwhelming. However, if you pay this one a visit on July 4, 2025, you may just have the experience of a lifetime. In 1975, Harold Davisson, a Seward local, built a time capsule that would not only serve as the largest in the world but as a way for his grandchildren to remember him after he passed away. He set the capsule to be opened 50 years in the future – to the day – from its sealing.
Davisson constructed the recognizable white pyramid on top of the original structure in 1983 so that his feat could retain its title as the world's largest time capsule. In just under two years, the treasures inside this time capsule will be revealed; among them will be numerous phone books, packages from 1970s Seward residents, and, most notably, two cars – one brand-new Chevy Vega, along with either a Datsun or a Toyota car from 1975.
Seward, Nebraska is no ordinary small town. The "Fourth of July City" has a character that is completely unique and offers residents – both permanent and those here for school – the opportunity to experience everything a small Midwestern town could have to offer – and more.