Student Lilley Barber's internship with local magazine leads to photographing the Big Slick fundraiser
Published by Olivia Dunklau 1 month ago on Tue, Aug 9, 2022 1:39 PM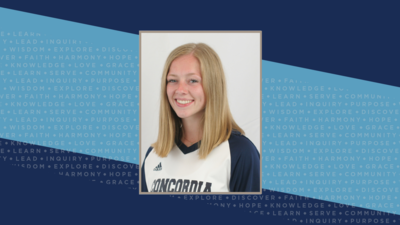 An event filled with smiles, celebrities and laughs all for a good cause. That is what Concordia sophomore, art therapy major Lilley Barber was a part of June 24-25, 2022. The Celebrity Softball game and press conference is a fundraiser sponsored by Big Slick, a philanthropy that was started in 2010 by Rob Riggle, Paul Rudd and Jason Sudeikis. All three celebrities had graduated from the same high school out of Overland Park, Kansas. The original idea started with a poker tournament to raise money for Kansas City's Children's Mercy Hospital. Now the group has added two more Midwest natives, David Koechner out of Tipton, Missouri, and Eric Stonestreet born and raised in Kansas City, Kansas.  
Lilley had an internship through the Johnson County Lifestyle Magazine to photograph the Big Slick event. 
"A family friend of ours works for the magazine and asked if I would be interested in an opportunity like this. I quickly said yes," said Barber. "I took pictures during the press conference in the morning, then at the softball game with all of the celebrities that night. My role in this internship was to capture special moments from this fundraiser and even spread more awareness about the fundraiser." 
Among the celebrities who participated were Heidi Gardner, Adam Scott, Sheryl Crow, Kevin Pollak and many more. Friday night was when the softball game took place at Kauffman Stadium. 
"My favorite part of the softball game was when the little kids walked out to the field and stood with the celebrities. Their faces just lit up," said Barber. "It was amazing to be able to capture special moments in someone's life like that. Even looking up into the crowd and seeing how much everyone was enjoying it was just so rewarding. You could see how important this was to people."  
Saturday night, the auction took place inside the T-Mobile Arena. In total, the event raised $3,523,637 for the Children's Mercy Hospital. The event has now raised over $8 million for Children's Mercy since its very beginnings.   
"The art program at Concordia really showed me I'm capable of doing things I thought I wasn't able to artistically," she said. "It has made me think about having some art side jobs like sports photography or partnering with magazines for special events. It's something I'm now really excited about." 
The Concordia Nebraska art department has eleven majors to offer in the Bachelor of Arts degree with art therapy being one of the options. 
"I got interested in art therapy in high school. I fell in love with psychology and have always wanted to help people," Barber said. "But I knew I also loved art-especially photography. I originally wanted to go somewhere and major in Psych then minor in art, but I met Professor Robson on my visit and he told me about the art therapy program. I looked into it and instantly fell in love with the idea of it." 
Not only is Barber a student, but also an active student athlete. When she's not working on projects in the art building, you'll find her on the soccer field at practice. Barber was also recognized for having spring 2022 term honors.  
See more information on the Big Slick and the Concordia Nebraska Department of Art.