Speech team wins division at 2022 Nebraska state tournament
Published by Logan Tuttle 4 months ago on Wed, Feb 16, 2022 8:23 AM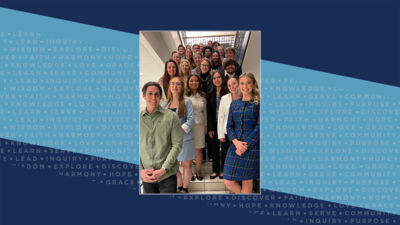 Members of the Concordia speech team who competed at the Nebraska Intercollegiate Forensics Tournament on Feb. 12 includes, from front to back, left to right: Angelina Stinson, Sabrina Reed, Alia Hurst, Gwen Gaunt, Tori Race, Abby VanVelson, Bailey Mooney, Tristin Kinderknecht, Micah Schultz, Abby Nugent, Josh Burmiester, Jayson Klaumann, Madelyn Graham, Jayzen Armstrong, Zipporah Johnson, Brody Schofield, Nathan Leonard, Aarin Dean, Michael Grundstrom and Veslemøy Huglen.
Concordia University's speech team is continuing their strong momentum in the spring semester, winning its division's team sweepstakes at the Nebraska Intercollegiate Forensics Tournament (NIFA) for the first time since 2017.
The team won the Division 2 team sweepstakes at the virtual tournament, held Feb. 12. Joe Davis, director of forensics, said he was proud of the way the team competed.
"This team has seen individuals come into their own like never before," he said. "It's evident in our continued improvement of the number of events and individuals who make it to the final round at state year-after-year."
Jayson Klaumann, a senior from Fairbury, Nebraska, led the team by placing in three events—he was fourth in After Dinner Speaking, fifth in Informative Speaking and sixth in Communication Analysis.
"The best word I can use to describe this year's NIFA tournament is 'motivating,'" Klaumann said. "While we seemed to have a smaller number of competitors compared to last year's tournament, we came out and still competed at a high level across the board. Our success was the culmination of the team's drive, determination and focus that we've shown throughout the year—both in competing and making our respective messages known. I'm excited to see how the rest of the year will play out, especially as we approach the national tournament in April, as I believe we will certainly be a force to be reckoned with at nationals."
Nathan Leonard, a senior from Topeka, Kansas, placed sixth in both Impromptu and Extemporaneous Speaking. As he looks back on his time on the team, he can see the growth that has taken place, not just personally, but from his teammates as well.
"It's been so great to see just how much growth has happened in the four years I've been in speech," he said. "Coming from my freshman year, when I was young and out of my element, being able to celebrate one person breaking into finals, looking at this year, where not only was I able to place in both of my events, but so many members of my team were able to place and deliver incredible speeches makes me so proud to see how far this team has come."
Sabrina Reed, a junior from Crete, Nebraska, was the team's highest finisher – coming in second in Poetry.
"I am so honored to get to share my message that getting runner-up made the experience even more validating," she said, "to know that not only do I have a passion for this topic and event, but others feel that too."
Additional members who placed in the tournament include Alia Hurst, a senior from Fairmont, Nebraska, who finished fifth in Dramatic Interpretation; Gwen Gaunt, a sophomore from Hastings, Nebraska finished seventh in the same event. Tristin Kinderknecht, a sophomore from Salina, Kansas, was fifth in Extemporaneous Speaking.