Rev. Tim Lindeman '82 reflects on impactful Concordia experience
Published by Logan Tuttle 1 year ago on Wed, Jun 16, 2021 1:35 PM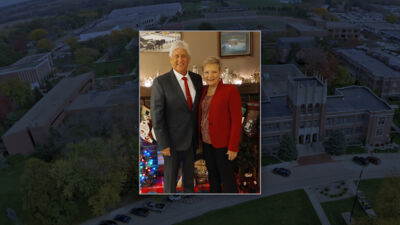 Rev. Tim Lindeman '82 and Alise (Moravec) '81, along with their three children, attended Concordia.
Rev. Tim Lindeman, a 1982 graduate of what was then Concordia Teachers College, serves as an associate pastor at Peace Lutheran Church in Arvada, Colorado. He says his time at Concordia helped to mold his faith and his attitudes toward ministry. It's where he met his wife, Alise (Moravec) '81, and where his three children also attended.
Carli (Smith) Lindeman '15, Tim's daughter-in-law and a Concordia regional ambassador based in Colorado, visited with Tim about the impact his Concordia experience had on his future.

Carli: When did you attend Concordia?

Tim: I attended Concordia, known then as Concordia Teacher's College when I first began, from 1976-82. Part of this was spent working on some graduate work as well as going on my DCE Internship.
Carli: What is a memory you have from Concordia that you think shaped you into who you are today?

Tim: I think the experience that impacted me most about Concordia was the personal care and interest the professors expressed to me and my fellow classmates. Early on in my time at Concordia, I struggled with a fluctuating hearing loss. Several professors sought me out to see how I was faring as a student. They offered a listening ear, helped me navigate the classroom despite the fact that I had difficulty hearing, were willing to offer changes and help to benefit me in succeeding, and were genuinely concerned for my emotional, physical, and spiritual well-being. This went beyond my professors. The kitchen staff was always willing to help with necessary dietary needs, the school nurse checked in on me, and administrators sought me out to offer help and a listening ear. That doesn't even take into account my fellow students who were so helpful, patient, and kind to me through it all. It is truly a caring, Christian environment that is also very personal.
Carli: What did you major in? Did you start your dream job right after you graduated?
Tim: I don't remember how it was worded, but I majored in Elementary Education/Dir. of Christian Education with a teaching emphasis in math. This also included a minor in practical theology. Upon graduation, I was extended a call to Greeley, Colorado and it was a wonderful place in which to carry out ministry. The pastor, the people, and those I worked with were a true blessing. Not sure how to define "dream job," I do have to say I enjoyed my first call and have been blessed to serve in two wonderful churches. Have there been problems and difficult times? For sure! But looking back, God has placed me in places in which I could/can share His love openly, be in ministry to/with/for His people, and use the gifts and abilities with which He has blessed me! During most of my time in ministry, I've been able to work alongside my spouse (whom I met at Concordia) in ministry and, now, as they have grown into adults, I can share these joys with my children (also Concordia graduates) who are also in ministry. God is good!!
Carli: Were there any key/life changing moments you had at Concordia that led you to where you are today?

Tim: I'm not sure there is a key, life-changing moment to which I can point as life-altering. I believe it was the Concordia experience, as a whole, that helped shape, mold, and form me, my faith, and my attitudes toward ministry. Observing the faculty members as Godly examples, late night discussions in the dorm, challenging coursework, and an applicable curriculum all made the experience worthwhile and life-shaping.
Carli: What are you currently doing? And where? Is this what you thought your life would like when you attended/graduated Concordia?

Tim: I currently serve as an associate pastor with specific duties in congregational care at Peace Lutheran Church in Arvada, Colorado. While it seems my ministry has been a natural progression, I can't say I ever thought I'd be a pastor. In fact, while at Concordia, I was pretty adamant that I didn't want to be a pastor. I was most interested in working with youth and young adults at that time. God has a wonderful sense of humor and has provided me with many adventures in life and ministry!!
Carli: Did you have a specific class/professor or experience at Concordia that made a difference in your life?

Tim: Though I didn't have a specific professor that I was truly close to, there were several professors that were more than impactful. I recall Dr. Hare and Dr. Karpenko who impacted my view and take on ministry, professionalism, and our relationship with God in a practical sense. Professor Laetsch was a wonderful, kind man who touched me with his personal way of relating to his students. Dr. Glaess helped me look at life and people through a different set of eyes. A number of professors carried on their ministry and teaching in a way that was "real" and "transparent" which showed me the value of being genuine in life and ministry. Though I never had him as a professor, I watch Dr. Martens from a distance and was impressed with his personal way of handling students and his way of quietly mobilizing and using the gifts of his students . . . many whom often went unnoticed on campus. There were several others who were incredible men and women of God who truly gave me a glimpse of God at work through His people and leaders!
Carli: What was your favorite part about attending Concordia?

Tim: To be honest, my very favorite part of attending Concordia was the people I met and the friends I made. Besides meeting my wife at Concordia, I've been blessed with rich friendships and shared memories. I still seek out and meet up with friends I made at Concordia. Keeping up with them on Facebook, emails, and phone calls continues to be a joy for me! The social life, the deep discussions, living life together in the dorm, and the experiences we shared continue to be a blessing still today!!
Carli: Do you have any other things that were about of your Concordia story that you would like to share?

Tim: I honestly have no problem recommending Concordia to young people I meet. The education I received was second-to-none. The relationships I developed have proven to be life-long. The memories continue even some 40 years later. I was overjoyed when our three children chose to attend Concordia. It was so incredible to observe that they chose Concordia for the very same reasons I did . . . a Christian atmosphere, our Lutheran heritage, caring and wise professors, wonderful relationships, and professors and administrators that took a personal interest in each of our children! The legacy continues in my experience!!
Since 1894, Concordia has equipped students to learn, serve and lead in the church and world. By partnering with Concordia, you can help ensure this mission continues for generations to come.