Rev. Christopher and Bethany Maronde and the Lutheran Institute of Regenerative Agriculture
Published by Amy Crawford 10 months ago on Wed, Feb 1, 2023 1:51 PM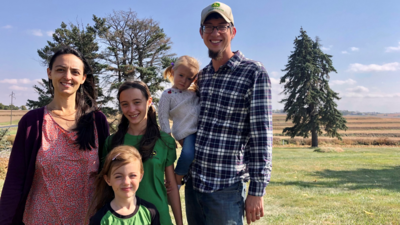 Rev. Christopher Maronde ('06) and his wife Bethany (Stoops) Maronde ('06) met at Concordia University, Nebraska. Rev. Maronde majored in history and was in the pre-seminary program, and Bethany studied early childhood and elementary education. The couple married shortly after graduation.
"The Lord has taken us many different places on this journey!" explained Rev. Maronde. "We moved to Fort Wayne, Indiana, after graduation from Concordia Nebraska to attend the seminary. My vicarage year was spent serving three congregations in upstate New York. Then my first assignment was to serve two congregations in western Iowa, St. John Lutheran Church in Kiron, Iowa, and Faith Lutheran Church in Deloit, Iowa. After four years there, I accepted a call to serve as the associate pastor at Good Shepherd Lutheran Church in Lincoln, Nebraska. While serving there, I had the great joy to come back to Concordia Nebraska as an adjunct professor."
Rev. Maronde taught four semesters of Old Testament introduction at the university, an experience he thoroughly enjoyed.
"It was fun to work with college freshmen, who have such energy and enthusiasm, and I relished the challenge of teaching about the Old Testament to people coming from so many different backgrounds," he said. "I had to make the material understandable and applicable to students who had spent their lives in Lutheran schools and students who had hardly ever cracked a Bible. What a joy!"
After four years in Lincoln, the duo moved back to Indiana to allow Rev. Maronde to pursue a doctorate and serve a congregation south of Fort Wayne: St. John Lutheran Church (Bingen) in rural Decatur, Indiana.
"As a graduate assistant and then later as an adjunct, I again had the opportunity to spend a lot of time in the classroom, teaching more courses every year," he said. "I enjoyed a different kind of challenge in teaching seminary students as I worked on [doctoral] coursework, comprehensive exams, and my dissertation, which is on the shape of the Psalter, particularly looking at how lament and praise interact with one another from one end of the book of Psalms to the other."
He now serves two congregations in western Iowa: St. John Lutheran Church outside of Hastings, Iowa, and St. Paul Lutheran Church in Oakland, Iowa. The Marondes live outside Shenandoah, Iowa with their three daughters. Both Christopher and Bethany grew up on Midwest family farms. As they moved to Iowa to serve congregations there and also help Bethany's father farm, they began to explore the idea of serving God through careful stewardship of the land. Combining their passion for service, their desire to educate and their dedication to good and careful land stewardship, they created the Lutheran Institute of Regenerative Agriculture (LIRA).
"We recognized a need, the need to help with the farm that is the heritage of my wife's family, but we didn't want to return to western Iowa simply to farm. We wanted to serve the Church, and put to use my particular training and experience in a unique way," said Rev. Maronde.
Rev. Maronde calls his wife Bethany the LIRA big-picture visionary, chief publicist and YouTube host. She also homeschools the couple's three children: 12-year-old Samantha who enjoys caring for a little flock of chickens and ducks, six-year-old Rachel and two-year-old Charlotte.
"Bethany loves being connected to the farm once again," he said. "Our children full of energy and enjoy the wide open spaces of the farm, along with being much closer to both sets of grandparents!"
The Lutheran Institute of Regenerative Agriculture was created to teach the young people of the church how to raise their own food, which builds resilient families, communities, and congregations. LIRA seeks to do so by offering young people - typically after high school graduation - summer work-study opportunities, two-year apprenticeships, and two-week immersion intensives. The group also plans to host conferences and retreats geared more toward families.
"The farm itself will be set up as a kind of 'lab,' modeling a number of different gardening and animal-raising techniques, demonstrating innovative practices that are 'scalable.' By that I mean that the techniques we will demonstrate and teach can be applied to a backyard, to an acre or two or ten or fifty or more, said Rev. Maronde. "They can feed a family, or they can feed a congregation, a community, the world! If you have heard the name of Joel Salatin or Gabe Brown, or ever watched a YouTube channel about a homesteader or bought produce or meat from a small, farm-to-table operation, you know the kind of agriculture we are going to teach."
He said they seek to combine a focus on land stewardship with a classical education component to create a well-rounded education for those who participate in the program.
"We want to see the next generation return to the land, stewarding God's creation so that it will be fruitful and abundant, and the techniques we will demonstrate do not require enormous amounts of land or capital to execute. In addition to the agricultural side of our program, we will also provide a classical education component. While working with animals and in the garden, we will also study great works of literature, we will study the Scriptures, the Lutheran Confessions, art, history and more. We will teach Latin, maybe German, Greek, or Hebrew as well, for those who desire those languages."
Rev. Maronde said that he and Bethany seek to link together study of intellectual heritage with care for God's creation.
"We want to get our hands dirty as our minds interact with the greatest thinkers our world has produced. The goal is thinking Christians who are resilient, who can handle whatever this world throws out at them, having the skills necessary to provide for their families and the world," he explained. "I don't expect all of our students to go into business in agriculture, but I do expect them all to be well able to grow their own food and have a little extra for their neighbors."
Rev. Maronde said they have received a wealth of positive responses to their ideas and the formation of LIRA. Plans are being made for the future of LIRA and its programming.
"In 2023, we will launch a concerted effort to raise funds to renovate the sturdy barn in western Iowa, which will become housing for students, classroom space, and a center for conferences and retreats," he explained.
"This will be the hub of LIRA, which is taking shape on a farmstead in need of restoration and care. Many trees have been felled, much scrap metal needs to be moved, but a farm is emerging from the overgrowth, and we are excited for what lies ahead!"
Raising three busy daughters, shepherding two congregations, homeschooling, farming and leading LIRA make for very full days for Rev. Maronde and Bethany, but he said they love every moment.
"Yes, I wear a lot of 'hats'! In one morning, I can be supervising my eldest daughter with her homeschooling, writing a sermon, and checking electric fence for my father-in-law's cattle!" he said. "Right now, there is a ton of work setting up the property where we will live and establish LIRA. We've been repairing a machine shed and setting up a modular home which will be our temporary home and will eventually house students and guests. The more permanent Maronde family home is a 100-year-old farm house that we are restoring. There is plenty of work to do, and we have been blessed with a number of volunteers who have traveled from as far as Texas to come and help us out!"
Rev. Maronde said that he and his wife both fondly recall their time at Concordia Nebraska and agree that it prepared them for the many vocations in which they serve today. He said that he is in continual communication with the Concordia Nebraska agriculture department, exploring ways that LIRA and Concordia Nebraska can mutually help one another.
"I truly enjoyed my time at Concordia Nebraska both as a student and then later as a professor," he said. "My time as an adjunct at the university gave me a taste for teaching an age group that leaves me very excited for when we begin to bring students to the farm. I can't wait to be teaching again! I grew up as a farm kid, always was around agriculture, but I never expected to be drawn back to it in this unique way, and I'm excited to combine teaching, pastoring, and farming together, for the good of the church and the world."
Learn more about the Lutheran Institute of Regenerative Agriculture at www.lutheransinag.org or follow them on Facebook at The Lutheran Institute of Regenerative Agriculture.