Professor Bryan Moore becomes dramaturg for 2022 Shakespeare on the Green
Published by Olivia Dunklau 3 months ago on Mon, Aug 22, 2022 3:29 PM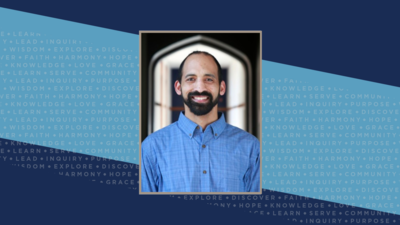 Professor of Communication and Theatre Arts at Concordia University, Nebraska, Bryan Moore, has recently become a part of a popular summer event in Omaha, Shakespeare on The Green. This was Moore's first year as the dramaturg for the event.
"A dramaturg serves different functions depending on the specific needs of the production, but it can involve helping a playwright as they create a new script, providing info and feedback to actors, directors, designers and marketing team during the rehearsal process," he explained. "Ultimately, the dramaturg helps the writer or the production team understand and tell the story that the writer wishes to tell."
With lots of experience, Moore has been involved in theater and its various parts for over 25 years. He has worked in directing, new play and production dramaturgy, applied theatre, technical theatre and acting, while also trying out a bit of playwriting and design.
Shakespeare on the Green put on two shows, The Tempest, directed by Scott Glasser and Othello, directed by Tyrone Beasley. Performances for each show were free admission and took place from late June through mid-July.
"I was contacted by Tyrone Beasley, the new Artistic Director of Nebraska Shakespeare, about the opportunity to work on both THE TEMPEST and OTHELLO," he said. "I worked mainly with the casts and directors offering background information, character feedback and other requested responses in person during the first week of rehearsals, and then creating a website that I updated with new information for them throughout the rehearsal process."
The event included lots of pre-performance activities. One of those activities is a Scholar Forum. This is when attendees could meet the scholars and artists who help put on and create the productions and get to listen to their experiences and stories. Moore helped host these discussions with the directors and designers of both shows.
"After a couple years of challenges related and unrelated to the pandemic, it was great to see audiences in the hundreds, including kids, adults and pets, excited about and engaged with the performances and the atmosphere of live theatre in the park," he said. "The event does a great job of providing interactive activities for various ages, food offerings for a picnic dinner or mid-show snack and a welcoming venue for friends and family to enjoy some social time and live entertainment together."
Shakespeare on the Green is a free event for anyone and everyone. Food and drink vendors are there before the show, a booth is set up that allows people of all ages to dress up in Shakspearian-themed clothing and more. The performances in years past have earned national recognition for their high-quality productions.
"One of the main missions of Nebraska Shakespeare is to show the power of Shakespeare—to help us reflect on our own lives in these current times. I appreciate and take that approach to theatre as a whole," he said. "As a participant, you can easily apply the skills you learn from working in theatre to any career. As an audience, you can learn from stories and the good and flaws of characters and their actions to approach and apply to your own situations."
The Concordia Nebraska theatre department uses different locations including Weller Auditorium, Olde Glory Theatre and soon will receive a new 100-seat theater in the new and upcoming music building.
Check out the university's theatre department and stay up to date with events and performances put on by the theatre and drama students and check out Omaha's Shakespeare on the Green to watch for future events.