Music department relocates ahead of construction
Published by Concordia University, Nebraska 2 years ago on Fri, Mar 26, 2021 1:52 PM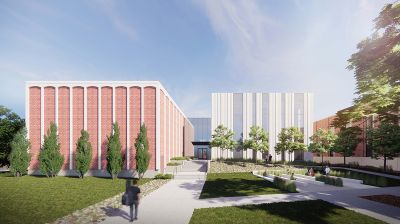 Concordia's Music Building will soon be remastered into a new 46,500 square-foot collaboration and study center.
The music department faculty, staff and students are on the move.
In a rapid-but-organized departure from their Music Building offices and classrooms in the middle of a busy semester, one might expect a few frowning faces. With this move, however, smiles abound amidst the work of packing boxes, moving pianos and loading trucks headed for various destinations across Concordia's campus.
On April 26, with generous support having surpassed the Board of Regents' established threshold for groundbreaking, Concordia will begin construction of a new 46,000 square foot Music Center in the same location occupied by the current 1965 facility. The west side of the existing structure, including the recital hall and instructional spaces, will undergo significant renovation. After demolition of the east wing is completed this spring and summer, a beautiful, functional modern addition will soon rise in its place that includes teaching studios, enhanced ensemble practice facilities, and a state-of-the-art recording studio.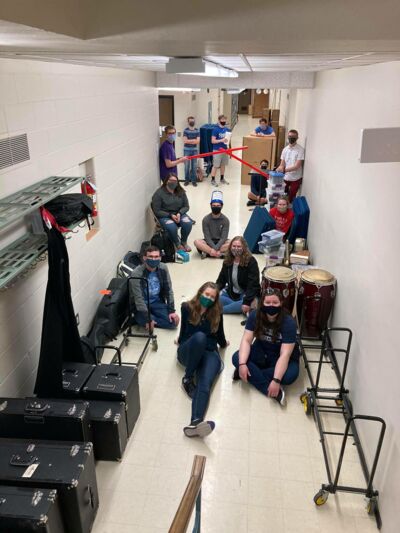 "I think everyone is feeling a little relief that this is finally happening," Dr. Kurt von Kampen, music department chair, said of the April groundbreaking. "While it couldn't have really gone any quicker, the process has been long as we've explored all the options to find the plan that would best serve Concordia." he added, "After relief, the next feeling is excitement to see the demolition and construction begin."
In a well-orchestrated plan, faculty and staff will relocate to available spaces around campus during construction, including historic Jesse Hall. "We've been very fortunate. Since the Dunklau Center opened up, there have been several spaces in Jesse that have become available to us. The students will have an excellent experience as music majors and as participants in ensembles," von Kampen said. 
Bittersweet emotions are prevalent, as the plans for the building have been in the works for the last few years.
"Any time you've made a space your 'home' for a long period of time, there are scores of fond memories," he said. "It is very sweet knowing that we are finally at the point of making it happen. We know the students will have a better academic and musical experience because of this new space."
Former faculty members like von Kampen's predecessor, Dr. Edmund "Dad" Martens, remember the excitement of moving into the existing building when it was brand new.
"It was something very grand. I had not really looked for such a place, coming from a congregation. I was very taken aback by the practice organs—and an office of my own!" Martens said. "The building, however, wasn't flawless even when it was new and shiny. The general noise of the building was not great—a lot of cacophony—with a lot going on with various groups. However, it was, other than that, something grand."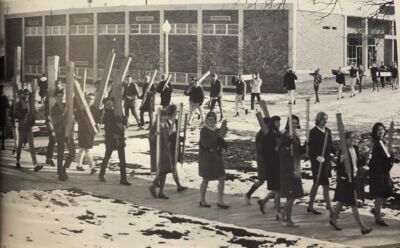 Martens maintains high hopes the new facility will be even better.
"I think the acoustics of the building will be great," he said. "To be able to design a facility for good sound throughout—that's what really strikes me. Imagine a practice organ and a choir going on at the same time without distracting each other. That's really neat!"
Work remains to fully fund the $17 million project. The university will also be establishing an endowment to ensure the facility, its technology and its instruments remain state-of-the-art for decades to come. As with the recently completed Dunklau Center for Science, Math and Business, having generous alumni and friends fully fund this project, including the endowment, will enable Concordia to equip music students and performers for years to come without using tuition revenue to build, operate, or enhance the facility.
Since the project was announced in late October 2020, a deep love for Concordia music has been evident in the number of current and retired faculty members who have generously supported the new building. They are eager to partner with alumni and friends to make this project a reality for future generations of students. Emeriti professor David Held shared, "I'm all for the project. These things that are planned, we wanted to do in the 80's and 90's."
Noting the opportunity now presenting itself, Held was clear about his feelings. "Dr. Kurt von Kampen and his colleagues have already invested a lot of time to help plan a wonderful facility," he said. "Now it's time to support this with our prayers and with our resources."
In the meantime, there's some packing and unpacking to be done.
Visit In Harmony: Building a New Space for Music to learn more about this historic project and how to support it.