Mission of Christ Network & CUNE alumni missions work
Published by Olivia Dunklau 1 month ago on Wed, Feb 15, 2023 3:53 PM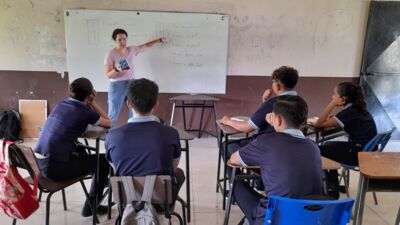 Ruth Moon ('22) serves for Mission of Christ in Costa Rica.
The Mission of Christ Network is an independent Lutheran mission-sending organization that focuses on sending laity to serve in cross-cultural ministries around the world. The group provides people to serve international churches, schools, and ministries where they can be involved in intentional Gospel proclamation. The group presently has 42 missionaries serving in 20 countries. In total, Mission of Christ has sent 85 missionaries over the past nine years, and 34 of those have degrees from Concordia Nebraska.
"Concordia Nebraska is a sending place. This is more than trite talk about sending into church in world," explained Rev. Dr. John Mehl, who is the Executive Director of Mission of Christ Network. "This is about graduates who understand that they are pilgrims of eternity, and their vocation is to show God's love in Word and deed. They take seriously the words of Acts 1:8 that are carved into the fountain on the plaza. They are not just 'taught' that God can use them in His mission, they experience that."
In addition to his work with Mission of Christ, Mehl also serves as an adjunct instructor at Concordia Nebraska. Prior to this service, he served as a parish pastor at St. Paul's Lutheran Church in Lincoln, Kansas and for the LCMS Board for Mission Services in a variety of capacities in Moscow, Russia; Frankfurt, Germany; and Hong Kong.
"I've been the director since January of 2017. I have a big position description that says a lot of fancy things, but mostly I implement and execute missions strategies involved with operations, development, finance," said Mehl. "This really means that I make sure my really great team has all the resources they need to excel in helping God's priesthood of believers be involved in His mission."
Mission of Christ Network offers training for new mission partners before they leave for the field, as well as an annual training each summer - Concordia Mission Institute - in which missionaries from around the world gather to engage in sessions of continuing education, Biblical studies, and mutual encouragement. Mission of Christ also provides a platform and structure for raising funds for missionaries, and a team of mission partner care specialists also provide support for missionaries on the field. The organization was registered as a 501©3 in Texas in 2013 and sent its first missionaries overseas in the summer of 2014.
Mehl said that Concordia Nebraska graduates are aware of where God is doing His mission around them, even on campus and are willing in the face of many unknowns to proclaim Jesus in placed like Taiwan, where less than four percent of the population have heard about Christ, or in Cambodia where the percentage is even smaller: fewer than .3 percent of people know Jesus.
"They do not shun hard work, nor being away from family and friends. They are willing to cross cultures and build relationships in which the seeds of the Gospel are planted and watered and where the Spirit has the opportunity to give growth in faith and life," said Mehl.
LightHouse is a Costa Rican ministry that serves the youth of Parrita, Costa Rica with during and after school programs that include Biblical teachings, but also equipping students with skills, including English, that will help them succeed with honest work in the future. Mission of Christ is the mission sending organization that recruits, trains, equips, sends and supports workers like those that serve at LightHouse Parrita. The LightHouse team is currently made up of five members, all of whom are Concordia Nebraska graduates: Ethan and Amanda Hutton ('13), Zach Barz ('18), Ruth Moon ('22), and Drew Boggs ('21).
"Ethan and Amanda joined Mission of Christ Network in 2017 after previously serving as high school teachers in Schuyler, Nebraska," explained Barz. "I joined Mission of Christ Network right after graduation in 2018, and together the Huttons and I created LightHouse Transformation Ministries in 2020. Ruth joined our team this past September, and Drew joined us earlier this month (December 2022)."
LightHouse exists to facilitate social transformation in the community of Parrita by providing educational support, cultivating meaningful relationships, and intentionally proclaiming the Gospel. Specifically, the ministry includes time spent at the Parrita public high school, where the groups offers ESL (English as a Second Language) activities in ninth grade classrooms as well as other activities for all students centered around biopsychosocial-spiritual themes.
Barz said the group also offers an online English program, connecting volunteers from the United States with students in Costa Rica via Zoom for small-group, conversational English classes. In additional, LightHouse works to form partnerships with other local ministries.
"Our work at the high school both inside and outside of the classroom as well as our involvement in the Parrita community allows us to grow relationships with teachers, administrators, students, and their families, giving us the opportunity to share the hope of the Gospel!" said Barz.
Each member of the team plays a different role in the process of the LightHouse ministry at Parrita high school and in the surrounding community.
"Ethan is the director of LightHouse and the president of the LightHouse board, which also includes a mixed group of local Costa Ricans, other missionaries, and trusted advisors from the United States that help to give our organization focus and direction," said Barz. "Amanda is our lead ESL person, and Ruth works closely with her, planning our ESL activities for use at the high school. I am currently our team leader, responsible for helping our new team members make the transition and settle into life here in Costa Rica, and I also help to manage and coordinate our online English program. Our team also supports ministry at the local church, where Amanda, Ruth, and I make up a portion of the worship team, and Ethan translates the message."
Barz said that he and the others were well-prepared for their mission work during their time at Concordia Nebraska.
"[The university] prepares workers for ministry both home and abroad by challenging each student to consider their role as a Christian in the world," he said. "The integration of faith and life is explored in classes of every program and modeled in the lives of faculty and staff. In short, the culture of Concordia Nebraska is one of missional service. Additionally, Concordia provides opportunities for students to serve locally as well as internationally, and they possess relationships with a variety of missions organizations. And there are always faculty and staff willing to help students explore where God might be calling them to serve."