Junior Jane Neuhaus serves as juvenile caseworker intern for Lancaster County Human Services
Published by Olivia Dunklau 3 months ago on Wed, Sep 6, 2023 1:18 PM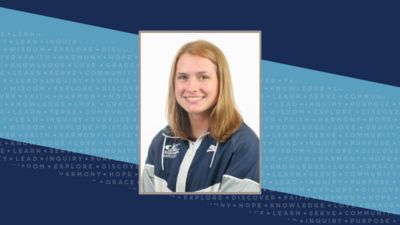 Jane Neuhaus is a junior at Concordia Nebraska double majoring in criminal justice and psychology. She found her summer internship by reaching out to different offices and programs that had opportunities. Neuhaus worked as a juvenile caseworker for the Lancaster County Human Services – Juvenile Diversion.
"I decided to do this internship because I would be closely working with juveniles in the system," said Neuhaus
With law school as a possibility in her near future, Neuhaus wanted to figure out what type of law she was most interested in, and juvenile law was one of her top choices.
"I figured this would help me dip my toes in the water, so to speak, of juvenile law," she said.
In this internship, she observed children's first meetings with their caseworkers, closed out cases for other caseworkers, input surveys answers into the computer system and formed case plans.
"I also had my own caseload," she said. "I performed those intakes and worked with my kids in the program, [while] keeping their files up to date on their progress."
Neuhaus deeply loved her work and developed a lot of compassion for the people she was working with.
"Many of the kids that I came across are not what you would expect from what you might deduce from their file," she said.
By the end, she had two main takeaways: to not judge a person by their mistakes and to remain patient when talking to an uncooperative child or angry parent. With the new skills she learned in her internship, Neuhaus discovered how she can have an impact on people and care for them in this field.
Interested in majoring in criminal justice at Concordia? Discover more here.