Joe Davis GR '17 named Outstanding New Forensics Coach by national tournament
Published by Logan Tuttle 2 years ago on Tue, Apr 13, 2021 9:43 AM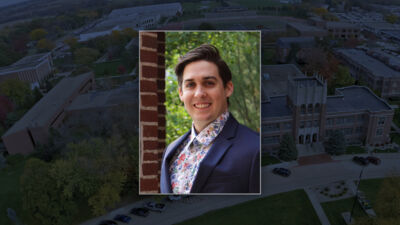 Joe Davis, Concordia's director of forensics, was recently named Outstanding New Forensics Coach by the American Forensics Association National Speech Tournament (AFA-NST).
Joe Davis, Concordia's director of forensics, was recently named Outstanding New Forensics Coach by the American Forensics Association National Speech Tournament (AFA-NST).
"I felt very honored," Davis said. "I have seen so many of my colleagues within our circuit win this award before and it's exciting to be part of that group. I think it reflected more on what our team's loving attitude is, as opposed to what our successful growth has been."
The award, presented annually to recognize two outstanding new coaches in the AFA-NST, must be earned in the first seven years of a coach's tenure. Bill Heinze from the University of Minnesota also received this year's award. Recipients are nominated—in Davis' case, he was nominated by Dr. Kittie Grace, director of forensics at Hastings College.
"Personally, I have loved working with Joe," Grace wrote in her nomination letter. "Every time he hosts a tournament or runs an event, he asks the other Nebraska coaches for advice and takes suggestions to improve his events. He values helping others and wants to see the activity flourish. He coaches my students as if they were his own and gives his very best comments and critiques to them always. He is an outstanding coach."
Davis, who graduated from York College in 2015, earned his MBA from Concordia in 2017, served as a graduate assistant for Concordia's speech team from 2015 to 2018. In June of 2018, he was named director of forensics and has grown the team from three competitors in four events at the national tournament in that year to 14 students competing in 30 events at this year's tournament.
"As a director, I like to be hands-on, because I enjoy coaching events so much," he said. "I love how inclusive we've made our program because it allows for students of all experiences and talent levels to contribute. Our forensics team has such a fun mix of people and motivations. If all I did was continue to provide opportunities for students to enhance the power of their presentation skills and voices, I would be proud of my results as a director of forensics."
While Davis appreciates the team's growth in the last three years, to hear how his team handles themselves when dealing with others means as much, if not more.
"It was mentioned in one of the nominations, how our team treats other people," he said. "Our energy and how fun we make speech and that passion and commitment that goes recognized as opposed to growth and competitive improvements. That meant a lot more to hear."
Growing up, Davis spent much of his time around speech while his father was the head coach of a few high school speech and debate programs. Being around the activity his entire life, Davis said he appreciates the value of forensics programs, but it's been tough to see them become devalued across the country as his high school and college programs have been eliminated.
"To see so many academic institutions fail to recognize how important competitive speech and debate can be for students is devastating," he said. "I am proud to have my career efforts be dedicated to keeping this important activity alive."
In 2016-17, Concordia was early in the process of re-starting the forensics program, wrote Scott Seevers, senior director of development and engagement, who served as Concordia's vice president for enrollment and marketing until 2020. Seevers wrote in his nomination of Davis that he hired him as the director of forensics in 2018, and has seen the program's growth first-hand.
"Joe's passion and creative approach to leading Concordia's program has produced noteworthy success," Seevers wrote. "The number of participants has grown fourfold since 2016, currently boasting 40 engaged students of various competition levels on the team. The manner in which Joe finds a meaningful and helpful role for students at different levels of talent, experience and commitment is entirely due to his innovative vision."
At Concordia, Davis said the administration has been supportive in helping grow the forensics program, which has led to exciting results over the past few years, and he can see the impact the program is having on students.
"Connecting with students and seeing how the influences of our faith-based institution, combined with the worldly speech perspective truly can shape the future leaders of our society is incredibly gratifying," Davis said.