Hannah Mulligan '22 learns the business of art
Published by Logan Tuttle 1 year ago on Mon, Feb 1, 2021 1:51 PM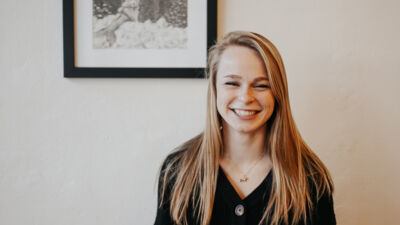 Hannah Mulligan, a junior art education major from Hastings, Nebraska, is learning the business side of the art industry as she works on a commission for a bed and breakfast.
Hannah Mulligan is learning first-hand that there's more to being an artist than creating beautiful and meaningful pieces of art. The junior art education major from Hastings, Nebraska, is also learning the industry's business side as she works on a commission for a bed and breakfast located in York, Nebraska.
When a group of Concordia's art majors were asked to display some of their personal work at B&B on Sixth in the fall of 2020 during its grand opening, visitors were mistaking Mulligan's pencil drawings to be photographs, and Doreen Luethje, the B&B's owner, was impressed by her attention to detail.
Since Mulligan and Luethje were both new to the commissioning process, they've been able to learn together about the importance of communication and setting clear expectations, among other lessons.
"This experience has already helped me grow as a young artist in many ways," Mulligan said. "I have learned to always have a contract when first agreeing to work with a client and to keep an open line of communication with them. I have no doubt that I will continue to discover new ways of networking with others and find new ways to become a more professional artist through this process."
Luethje said she plans to frame Mulligan's drawings and have them on display in the foyer of the house, in addition to using them for postcards, greeting cards and in her advertising.
"I love art of all kinds and I feel most people don't get to experience it enough," Luethje said. "If I can encourage young artists, help them gain experience and build a portfolio, then I feel that I'm helping to promote the continuation of the arts and art programs."
Professor Don Robson, Department of Art chair, said Mulligan exemplifies a lot of what the department expects from its students—she's dedicated to the studio, has a great attitude, is teachable and willing to engage in freelance opportunities and face the challenges that comes with them.
"If young artists want to pursue a career as a professional studio artist, they need to understand the business side in order to make a living," Robson said. "Networking, presentation skills, understanding the landscape of art and what potential clients are interested in is essential."
Mulligan said her experience in Concordia's art program is helping her prepare for her vocation as an art teacher and also an artist who can manage personal projects.
"I feel like Concordia has taught me how to be a dedicated artist even when my schedule is a little crazy," she said. "Long, tedious nights in Brommer have given me a taste of what the real world is like. I plan to be a high school art teacher after I graduate, which is a big-time commitment since it's a full-time job. I know that my time to work on personal art and commissions will be hard to come by just like it is now, but I love what I do so I wouldn't have it any other way."