Esports gears up for Fall 2021 season
Published by Logan Tuttle 3 weeks ago on Mon, Sep 27, 2021 1:58 PM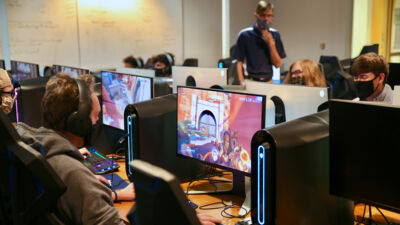 Concordia's esports team will compete in League of Legends, Overwatch and Rocket League for the Fall 2021 season.
The Concordia esports team is looking to capitalize on the momentum it built during its first semester of competition last spring.
For the Fall 2021 season, the esports team will compete in League of Legends, Overwatch and Rocket League, as part of the National Esports Collegiate Conference (NECC), where they will face competition ranging from NAIA to NCAA Division I. This year, the full esports roster includes 27 students from a variety of academic programs.
"Last spring was our first competition and we had a real growing season," Ryan Hinds, head coach, said. "We were able to reach the postseason in both Overwatch and Rocket League, which was a great place for us to get started this year. We also went from a team of almost 20 players to a roster of 27 this year, with that growth we're able to field a full League of Legends team for the fall season."
Regular seasons for the three teams kicked off Sept. 21, with Rocket League competing on Tuesdays, Overwatch competing on Thursdays and League of Legends competing on Fridays.
The Overwatch team, which went undefeated in the preseason, will compete in the Emergent Division, a division above last semester's placement.
"They have shown a lot of improvement and ability in their scrimmages and in the preseason," Hinds said. "With a season under their belts, they hope to show some maturity in the game after improving over the summer."
Two Concordia teams compete in Rocket League—Blue and White. The Blue team finished 3-3 in the preseason, and the all-freshman White team went 2-4 in the preseason.
"The Blue team will have a lot on their plate as they will compete against tough teams, but they have a chance to show their skills," Hinds said. "We're excited about the progress the White team showed in the preseason, and we look forward to seeing them grow in the regular season."
In League of Legends, Hinds said the young team has experienced some growing pains, but will look to improve during the Fall campaign after going 1-3 in the preseason.
Throughout the season, Concordia will look to rekindle its rivalry with Concordia University Wisconsin as they compete in Rocket League and Overwatch.
"It's been a fun rivalry so far, especially our exchanges on social media," Hinds said. "Even though it's probably the newest rivalry in the NECC, many are saying it's the best one to follow because of our banter and tough competition."
All of the esports matches are streamed live on Twitch, and past matches can be viewed on the team's YouTube channel.
Concordia's esports teams include:
League of Legends
Faith Brown, junior, Concordia, Mo.
Monica Brown, senior, Northglenn, Colo.
Rachael Ethridge, senior, Fulda, Minn.
Kendra Johnson, senior, Council Bluffs, Iowa
Gregor Lainer, senior, Warsaw, Poland
Christoph Marsh, junior, Concordia, Mo.
Parker Reece, freshman, McCordsville, Ind.
Eduardo Rojas, junior, Bogotá, Colombia
Overwatch
Brittney Aitken, freshman, Cozad, Neb.
Cody Bender, junior, Utica, Neb.
Aden Bergen, freshman, Jefferson City, Mo.
Nickolas Engebretson, senior, Forest City, Iowa
Noah Fenton, senior, Auburndale, Fla.
Logan French, senior, Fort Collins, Colo.
Tristin Kinderknecht, sophomore, Salina, Kan.
Zander Pacheco, freshman, Pueblo, Colo.
Tytus Woodburn, freshman, York, Neb.
Rocket League
Ben Bissey, freshman, Colorado Springs, Colo.
Ethan Bryant, freshman, Grand Island, Neb.
Ethan Cronin, freshman, Fort Collins, Colo.
Taylor Johnson, sophomore, Council Bluffs, Iowa
Broderick Schofield, senior, Sylvan Grove, Kan.
Jordan Spilinek, junior, Doniphan, Neb.