Dr. Greta (Wendelin) Perel '07 competes on "Jeopardy!"
Published by Logan Tuttle 5 months ago on Wed, Dec 8, 2021 8:53 AM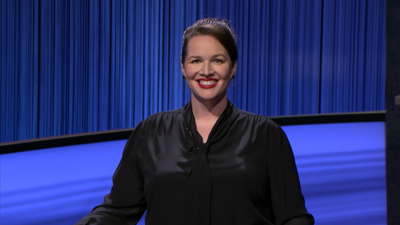 Dr. Greta (Wendelin) Perel '07 competed on an episode of "Jeopardy!" which aired on November 26.
On a random day in March, Dr. Greta (Wendelin) Perel took the Jeopardy! Anytime Test out of curiosity and boredom, with no expectations of advancing in the audition process or even appearing on the show. But that's exactly what happened.
Six months after taking the test and completing numerous audition rounds, Perel, a 2007 Concordia graduate, traveled from her home in Overland Park, Kansas to Los Angeles to film her episode which aired on November 26. Perel's episode was the fifth and last one filmed of the day, but as a lifelong fan of the show, the long day didn't bother her, she was just thrilled to be on the set.
"It was a pretty intense day, it was just a blur, really," she said. "It felt like a day-long job interview, but my long experience in speech and debate at Concordia helped prepare me for public speaking situations, so I felt pretty comfortable to be in that position."
Perel's episode, hosted by Ken Jennings, one of the show's greatest contestants of all time, matched her against Amy Schneider, an engineering manager from Oakland, California going for her eighth win in a row, and Chris Rayis, a composer and lyricist from Burlington, North Carolina.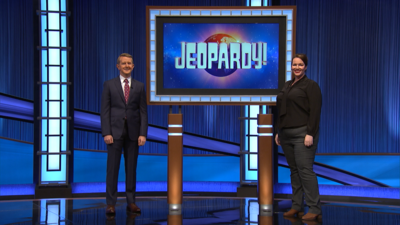 Schneider won the episode, with Perel and Rayis finishing tied, but since Rayis had a higher score entering Final Jeopardy, he earned second and Perel was third. That too didn't matter as much to Perel.
"Amy had already won three in a row when we started filming that day," Perel said. "I wanted her spot pretty bad, and I feel like I put up a good fight. She was a fantastic competitor and she even said after the taping that if the Daily Doubles had gone differently for Chris or me, she would have been in trouble. She was very gracious, humble and easy to talk to. I wouldn't want to lose to anyone else."
After having watched the show for as long as she can remember, Perel said experiencing filming of the show wasn't far off from what viewers see on TV.
"What I like about 'Jeopardy!' is that what you see is what you get," she said. "The episode is filmed in the same time it takes to watch it, moving right along with not a lot of breaks. It really is a live TV show, so to speak. It was interesting to learn from behind-the-scenes how everything worked."
Watch the final Jeopardy segment of Perel's episode, which aired on November 26.
The opportunity to appear on the show brought Perel full circle from her time at Concordia in a way. As a student, she and her brother, Ladd Wendelin '04, went to Omaha and auditioned for the "Jeopardy!" National College Championship. After that, she didn't give auditioning another thought until that random fateful day in March.
After graduating from Concordia with a degree in communication and theatre arts, Perel attended the University of Kansas, where she earned a Ph.D. in communication studies while teaching undergraduate classes, with the ultimate goal of becoming a professor.
"Being in the doctorate program was something Concordia really prepared me for," she said.
At the end of her program, Perel met and fell in love with Igor Perel, and the couple put their roots down in Overland Park. She worked for KU for 18 months in academic administration before starting her own business as a professional communications consultant and educator. She's also been a featured educational speaker at industry conferences, to help attendees improve their communication and writing skills.
"In all my years at Concordia and in speech and debate, it was easy for me to make that transition," she said. "For seven years now, I've been a corporate/executive writer helping clients across a variety of industries distill their material into executive reports, newsletters, or any other communication or public relations material they have a need for."
As an entrepreneur, Perel said she enjoys working with her clients to fill any gaps regarding their communications and public relations content and strategy, but it's different than her original goal of becoming a professor.
"I didn't go out thinking this is what I was going to find," she said. "It certainly wasn't what I went to school for or got my doctorate for, but it's been nice to see how all of my degrees have equipped me to adapt and create a career that has served me well."
No matter if she's competing on a nationally-televised game show, developing a client's communications strategy, or teaching other professionals how to improve their skills, Perel said she's leaned on the lessons she learned at Concordia, especially in the speech and debate program to thrive in any situation she's found herself in.
"Hands down, being in the program has been the biggest professional influence of my life," she said. "It gave me the confidence to be comfortable public speaking when most people aren't, it taught me how to think and reason and put those thoughts together, to test ideas and create better ideas. Especially when I was teaching at KU, it helped me make my students better by improving their own skills."
With Concordia re-launching its debate program in Fall 2021, Perel said she believes speech and debate programs should be a top priority at universities because of their accessibility to all students.
"Everyone can plug into the program and find something for them and help them become more confident, increase their intelligence and be exposed to different ideas and people," she said. "I enjoyed so much success as part of the program, but you also learn how to conduct yourself professionally. I can't imagine where I would be without speech and debate."