Concordia University's College of Business and Technology adds new concentrations with the Lower Cost Models for Independent Colleges Consortium
Published by Olivia Dunklau 1 year ago on Wed, Oct 12, 2022 2:09 PM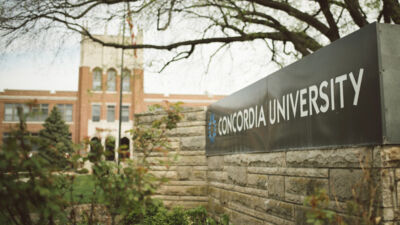 Concordia University, Nebraska's College of Business and Technology recently added six new concentrations and a master's program in Nonprofit Management. The concentrations are part of the Lower Cost Models for Independent Colleges Consortium.
"Lower Cost Models Consortium (LCMC) is an organization that hires top-tier faculty to develop and teach online courses that are part of concentrations and full degree programs that are in high demand by students," said Dean of the College of Business and Associate Professor, Jonathon Moberly. "Institutions that generally engage LCMC are small private institutions like ours who are interested in offering new concentrations or full degree programs, but want to test the market with students first at a low cost instead of devoting a large amount of our human and financial resources up front."
The Concordia Nebraska College of Business & Technology worked with university Provost Tim Preuss and President Bernard Bull to partner with LCMC to offer the following concentrations for B.S. Business Administration and B.S. Mathematics beginning with the Spring 2023 semester: Digital Marketing, Supply Chain Management, Human Resource Management, Project Management and Actuarial Science.
These concentrations are offered completely online and taught by instructors hired by LCMC. These individuals are not employees of Concordia University, Nebraska.
"As students are taking courses, the Dean of the College of Business & Technology, Jonathon Moberly, and the Chair of the Department of Computer Science & Mathematics, Marcus Gubanyi, will be monitoring the quality of instruction closely and talking with students regularly about their experiences. Each of the concentrations have projected high employment growth over the next 10 years and match common areas of interest by our current students and professional students," said Moberly.
Additional concentrations that are of interest to the College of Business and Technology, but are not yet offered, include Data Analytics, Esports and Gaming Administration, Game Development and Web Design.
"The long-term vision for this venture is to be able to have credible data to determine if Concordia Nebraska should devote both human and financial resources to design and offer these concentrations on our own," added Moberly.
The new MBA in Nonprofit Management is a 36-credit hour graduate program with 27 credit hours of core courses that apply to both the for-profit and nonprofit sectors and 9 credit hours dedicated to common areas in the Nonprofit sector. Classes include Leadership & Organizational Behavior, Strategic Management, Organization Development, and many others. There is also an option for students to choose Nonprofit Management as their concentration and take three courses that show the common, steep learning curves when entering the nonprofit world. Additionally, the courses for the concentration were developed and taught by those who are highly experienced in the nonprofit industry.
Moberly reiterated that it is important to offer these new options and opportunities for students.
"The mission of the College of Business & Technology at Concordia Nebraska is to 'equip ethical servant leaders to be influential difference makers in their work and in their world,'" he said. "The best way to equip our students is to offer them different opportunities to explore where they can find both their passion and their path to be that influential difference maker."
Interested in discovering business programs at Concordia? Learn more here.