Concordia Nebraska's Plum Creek Literacy Festival to feature "Guardian of Childhood: The Art of William Joyce" Exhibit
Published by Amy Crawford 2 months ago on Fri, Sep 15, 2023 8:23 AM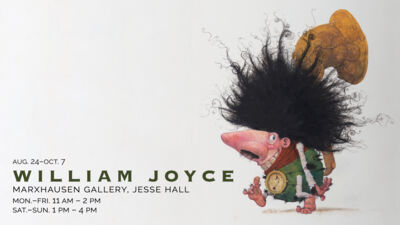 As part of Concordia Nebraska's renowned Plum Creek Literacy Festival, the campus will host a special touring exhibition titled "Guardian of Childhood: The Art of William Joyce" through October 7. Organized and toured by the National Center for Children's Illustrated Literature (NCCIL), this exhibit features one of the most extensive public showings ever of original illustration art from Academy® and Emmy® award winning artist William Joyce. On display is original art rendered in media ranging from ink and graphite to acrylic and digital from Joyce's early works, picture books, and some animation prints. Joyce's picture books include "George Shrinks," "Dinosaur Bob," "A Day with Wilbur Robinson" and "Santa Calls."
The exhibit is located in the university's Marxhausen Gallery in Jesse Hall and is free and open to the public Monday through Friday 11 a.m. to 2 p.m., as well as Saturday and Sunday from 1 p.m. to 4 p.m.
"William Joyce is a legend when one thinks about books and their creators. The details, expressions, and various techniques he uses make his books very unique and unforgettable," said Dr. Dylan Teut, director of the Plum Creek Literacy Festival. "To have pieces from his collection on our campus is an honor and something we hope our Concordia community and book and art lovers from around the area will be able to come together to experience and enjoy. A walk through the gallery leaves you feeling like you've gotten to step through a small piece of Joyce's imagination and leaves you longing to read his entire collection of books."
A gallery talk is scheduled for Sunday, September 17 at 1 p.m. Dr. Teut will take participants on a guided tour of the exhibit.
The award-winning Plum Creek Literacy Festival, founded in 1996, seeks to encourage a love of reading, writing and books by bringing nationally renowned authors and illustrators to Nebraska who host interactive workshops and keynotes for school children and adults.
This year's festival will feature authors and illustrators include Jonathan Bean, Jeffrey Brown, Cozbi A. Cabrera, Diane deGroat, Michael Garland, Tommy Greenwald, Lisa McCourt, Lindsay Moore, Scott Nash, Billy Steers, Wendelin van Draanen, Eric Velasquez, Carole Boston Weatherford, Jeffery Boston Weatherford, Katie Yamasaki and Aaron Zenz. Literacy experts Georgia Heard, Dr. Vicki Anderson, Jack Hilgert, Brooke Tempel and Dr. Julia Schleck will also participate in the event. Saturday luncheon keynote speaker is National Book Award Winner Deborah Wiles.
The festival includes a book pre-sale on September 20, a children's day on October 6 featuring special presentations and activities for students and an adult conference on October 7 where authors, illustrators and several literacy experts speak on a variety of topics.
Since 2000, the Marxhausen Gallery of Art has hosted more than 30 artists and art professionals. Through a diverse mix of exhibitions, performances, screenings, and conversations, the visiting artist program provides a public forum for the presentation and contemplation of contemporary art, curatorial practice and scholarship. Through discourse, studio critiques, informal discussions and public lectures the program provides students with direct access to art professionals working across disciplines.
Named by Newsweek magazine as "One of the 100 people to watch in the new millennium," Joyce has been heavily involved in the world of digital animation from its full-scale inception at Pixar Animation. His projects have been produced by nearly every major film studio including Disney, Twentieth Century Fox and DreamWorks Animation. His feature films include Epic, Rise of the Guardians, Robots and Meet the Robinsons, and he has developed character concepts for Toy Story and A Bug's Life. In 2009, he co-founded Moonbot Studios a transmedia storytelling company specializing in books, apps, film and video games. In February 2012, he won an Academy Award® for The Fantastic Flying Books of Mr. Morris Lessmore, an animated short film about the curative powers of story. His television series include George Shrinks and Rolie Polie Olie for which he won three Emmy Awards®.
Learn more about the Plum Creek Literacy Festival here.