Dylan Teut currently serves as the executive director of the Plum Creek Literacy Festival and has served as an instructor for literacy courses for undergraduate students at Concordia University, Nebraska.
Teut is a former first-grade teacher and was recognized as Teacher of the Week by WREX in his first year, in addition to being recognized by the state of Illinois as the K-5 Reading Teacher of the Year in 2014. He was named to the International Literacy Association's inaugural "30 Under 30" list in 2015. In 2020, Teut was recognized by Read Aloud Nebraska with a Reading Spotlight award for his advocacy in helping educators and families stay connected to high-quality literacy during the pandemic. Since assuming leadership of the Plum Creek Literacy Festival in 2016, after the festival's first director, Dr. Jannell Uffelman retired, he has helped it grow in numerous ways.
"I continue to be inspired by the interactions I witness between children and book creators," Teut says, "and I am overjoyed that I get to continue Dr. Uffelman's mission of the festival—to excite children about words so they can be excited about reading The Word."
Teut serves on the National Board of Supervisors for the Mazza Museum of Children's Book Art, a part of the University of Findlay in Findlay, Ohio, and also on the National Mathical Book Award committee as a representative of the National Council of Teachers of English (NCTE). He is a frequent conference presenter and has chaired panels and workshops for the International Literacy Association Annual Conference as well as the NCTE annual conference.
He is a member of the International Literacy Association and the National Council of Teachers of English. He has also served on the Read Aloud Nebraska board. Teut is an active member of Christ Lincoln: A Lutheran Ministry in Lincoln, Nebraska, where he leads the GriefShare ministry and serves as an organist and a worship elder.

Appearances
Familius podcast with Dr. Carla Manly (published April 2, 2021)
Education
Ph.D. in Education - Reading, Literacy Instruction and Assessment - Walden University, 2021
M.Phil - Literacy Education - Walden University, 2020
M.Ed. - Literacy Instruction - Concordia University, Nebraska, 2015
B.S.Ed. - Early Childhood Education, Church Music minor - Concordia University, Nebraska - 2012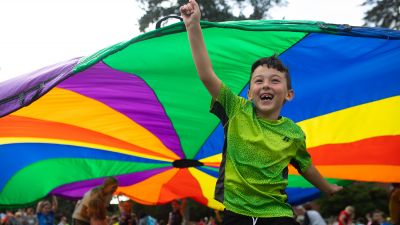 Plum Creek Literacy Festival
The award-winning Plum Creek Literacy Festival, founded in 1996, seeks to encourage a love of reading, writing and books by bringing nationally renowned authors and illustrators to Nebraska.