Concordia Nebraska programming team enjoys success at North Central North American Regional Contest
Published by Amy Crawford 2 months ago on Fri, Mar 24, 2023 3:42 PM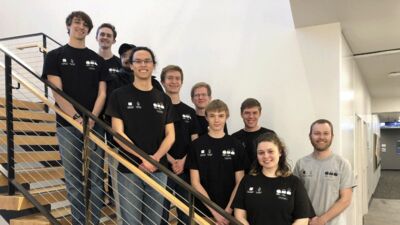 On Saturday, February 25, nine Concordia University, Nebraska students competed against dozens of schools from across the Midwest in the North Central North American Regional Contest. The contests features teams of three coders working together to solve difficult problems in an intense five-hour competition. Teams attempt to solve as many problems as possible, as fast as possible. The team who solves the most problems wins, with time-to-completion breaking ties. Teams around the world compete in qualifying and regional contests, with the top teams advancing to world finals.
The North-Central North America (NCNA) Regional contest posed 10 algorithmic programming problems to 336 students who made up 116 teams. Concordia was represented by three teams, NULL, Runtime Terrors, and The A Team.
Marcus Gubanyi, assistant professor of computer science, coaches the programmers.
"These competitions provide unique opportunities for college students to test both their technical skills and soft skills," he said. "With teams of three programmers sharing one computer, students must collaborate effectively to solve challenging problems in an intense, fast-paced competition." 
The Runtime Terrors placed 27th out 116 and is comprised of team members Micah Willweber, Jacob Woodmancy and Tytus Woodburn. The trio placed second among teams from NAIA schools and placed first among teams from the GPAC. They solved 4 out of 10 programming problems
The A Team placed 40th out of 116 and is comprised of team members Alexander Johnston, Ames Andelt and Andrew Brandt. The group solved three out of the 10 programming problems.
"NULL" placed 47th out of 116 and is comprised of team members Faith Brown, Ian Kollipara and Neal Patron. The team solved three out of the 10 programming problems.
"The competition was good practice in effectively communicating ideas. We would each attempt a problem on our own and then work together to come up with a solution or write a program," said Patron. 
A team from the University of Wisconsin-Madison won the competition. Full standings can be found at https://ncna22.kattis.com/contests/ncna22