Celebrating the Class of 2020 with online events
Published by Concordia University, Nebraska 2 years ago on Wed, May 6, 2020 10:37 AM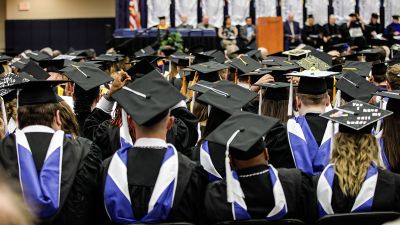 Concordia University, Nebraska will honor the Class of 2020 with an online celebration May 9 at 10 a.m. CT.
The May 9 celebration, taking place on Concordia's Facebook page and YouTube channel, includes a Class of 2020 highlight video with pre-recorded clips of participating graduates. The graduating class will also be honored during an online baccalaureate service streamed on Concordia's Facebook page Friday, May 8 at 11 a.m. CT. Rev. Ryan Matthias, Concordia's campus pastor, will lead the service, with music provided by Dylan Teut, director of the Plum Creek Children's Literacy Festival.
"We are excited to celebrate each of our graduates and their achievements as a campus community on their original graduation day," said Rev. Russ Sommerfeld, Concordia's interim president. "These students have been tested in their last semester, and God's faithfulness has enabled them to be faithful, resilient and dedicated to overcoming these challenges. Each of them will shine God's light in Christ as they serve and lead in the church and world."
Concordia's Class of 2020 was set to graduate May 9 with a full ceremony located in the Walz Arena on campus. However, due to the directed public health measures put in place from COVID-19, the in-person celebration has been rescheduled to Aug. 1. More details about the in-person event will be published as they become available.