Business Students Compete in Collegiate Leadership Competition
Published by Brooke Lange 9 months ago on Mon, Apr 25, 2022 2:19 PM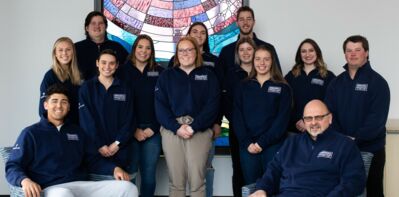 Twelve students participated in the Collegiate Leadership Competition on April 7-9 2022.
The Collegiate Leadership Competition (CLC), a nonprofit founded in 2015, creates a digital practice field where students can actively apply what they learn via CLC's global virtual competition. Participants of the competition are taken from Dr. Curt Beck's Leadership Skills Development class. Dr. Beck, has been creating teams for the competition since 2017, and he deeply believes in its benefits for students. Beck commented, "CLC makes leadership a tangible, high-impact learning experience for future leaders. The students in the class aren't sitting through lectures on theories of leadership, they are engaging in hands on activities in a culture of feedback that is challenging them to grow as leaders."
Two teams from Concordia Nebraska competed against 36 teams from other universities such as the Air Force Academy, Kent State, University of Delaware, and Georgia Southern. The teams from Concordia were made up of Sydni Kroll, Averie Lambrecht, Kayla Luebbe, Mady Payne, Klay Uher and Tanner Wubbels, and of Chloe Brown, Ashley Evans, Ashley Gerczynski, Noah Janssen, Max Johnston, and Cally Rogers.
In the competition, there are six challenges in which the teams need to utilize creative problem solving, leader and follower skills, and strong communication to effectively complete each challenge. The challenges are varied, ranging from puzzles and escape rooms to ethical dielmmas and stimulations.
Along with the obstacles in the activities the students had to overcome, there were also technological complications. On the first day of the competition, Concordia's team lost connection on Zoom and they had to stop participating for the day. Beck stated, "Our students were frustrated and disappointed to have to cancel the first day of the competition, but they overcame the issues and moved forward. I am proud of our students for showing up on day two of the competition ready to go." Klay Uher, a senior participating in the competition, commented on the importance of the variety of team members. "I learned that it is good to have mellow people on your team. I am very competitive, so when we lose, I tend to get upset. There were a lot of emotionally intelligent people who gave good feedback and encouragement, which allowed the team to cool down and focus on our next activity."
Despite the obstacles, the teams made improvements from previous years. In 2021, Concordia's teams finished in 4th place and 11th place. This year, the team made up of Sydni Kroll, Averie Lambrecht, Kayla Luebbe, Mady Payne, Klay Uher and Tanner Wubbels finished in 3rd place, the highest place finish a team from Concordia has achieved. The team made up of Chloe Brown, Ashley Evans, Ashley Gerczynski, Noah Janssen, Max Johnston, and Cally Rogers finished in 5th place. Overall, the competition was a success. Beck stated, "I am honored to work with the students and impressed with how much they grew throughout the course."