Alumni artist Anna Marie Steffenson presents gallery talk on Concordia Nebraska Campus
Published by Brooke Lange 2 months ago on Fri, Nov 25, 2022 4:17 PM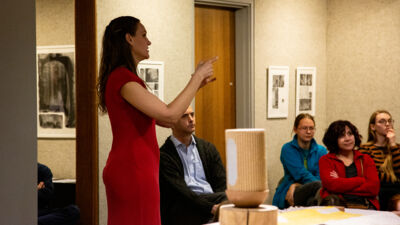 The Concordia Nebraska Department of Art welcomed artist Anna Marie Steffenson to the university on Thursday, November 3. A Concordia Nebraska alumni, Steffenson visited campus for a reception and gallery talk event in conjunction with the three-woman exhibition "Generations," which was recently on display at the university's Marxhausen Gallery of Art. In addition to Steffenson's work, the exhibition also included pieces by Ramona Lapsley and Nora Rolf.
At the gallery talk, Steffenson spoke about her artwork in the "Name of God" series. This body of work includes selections from more than 200 water-based media. The "Name of God" series focuses on the healing and restorative power of the arts while also emphasizing the choice to channel the trauma of war and suffering into beauty.
"The Name of God series is a visual invitation for meditation. It focuses on value, composition, and granulation, specifically flocculation and reticulation," she said.
Steffenson was born in Jerusalem and graduated from Concordia University, Nebraska in 2008.  She spent half of her childhood on her family farm 30 miles northwest of the Concordia Nebraska campus.  She has also lived in Area 'B' No-Man's-Land between the West Bank and Israel, Jordan, as well as in Taiwan, the Chickasaw Nation and throughout the United States.  In summer 2023, she expects to call Tanzania in East Africa her permanent home.  Steffenson is a professional artist with artwork in 19 countries in public, private, corporate and religious collections. She is also a beloved watercolor workshop teacher. Learn more at AnnaMarieSteffenson.com