Undergraduate International Students
An international student is one who is a citizen of a country other than the United States of America and who requires an F-1 visa status to engage in academic studies in the United States. They must be able to comply with the provisions of the Certificate of Eligibility to Study in the U.S., Form I-20. Additional details will be provided as you complete various steps in the admission process. Students with U.S. Resident Alien status apply through the Concordia Admissions Office.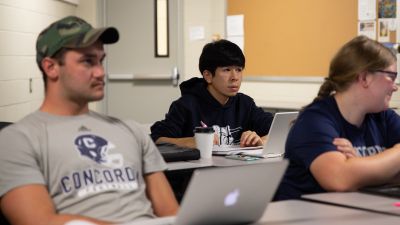 Admission Requirements
Apply for Admission
Apply for free online.
Provide High School Transcripts and Evaluation Report
Request to have your high school transcripts sent to Concordia. If your transcript is not in English or not from an American international school, you must provide an evaluation report to verify your credentials, degree and U.S. equivalencies. A comprehensive or course-by-course report is required. An evaluation may be obtained from wes.org or an approved transcript evaluation partner.
Take an Entrance Exam
If your GPA is less than a 3.0, you'll need to take the ACT or SAT College Entrance Exam and have your scores sent to Concordia.

Visit ACT.org or collegeboard.com to find a nearby testing site. In addition to admissions requirements, scores help determine academic scholarships available to all students.
Provide English Language Proficiency Scores
Non-native English speakers must provide proof they are proficient in the English language to begin college studies. You can take the English3 Proficiency Test (E3PT), or the Duolingo English Test, both of which are available on-demand online and then submit your scores.
Additional optional tests include the TOEFL (Test of English as a Foreign Language) or IELTS (International English Language Testing System) to show your language abilities, but these tests are administered exclusively in-person. Concordia requires a score of 78 or above on the TOEFL iBT test or 6.0 or above on the IELTS for undergraduate admission.
Once you have fulfilled the admission requirements and been accepted to Concordia, you will need to complete several more steps to enroll and begin attending. Please review the next steps below and let your admissions counselor know if you have any questions.
Next Steps After You've Been Accepted to Concordia
Confirm Visa Status
Complete and return the Visa Status Information Form.
Financial Verification
Bank Letter Template
The U.S. government requires proof of financial support from all international students.
To verify the support noted on the Financial Understanding and Agreement and the Sponsor Support Statement, Concordia requires each individual providing support (student, parent, sponsor, etc.) to request a letter from their bank to verify account status and amount available.
Bank letters should be:
Current (received within 4 weeks of being signed and dated)
Written in English
Printed on bank letterhead
Please include the items listed below:
Bank Letterhead
Including bank name and location
Name of bank customer
How long individual has been a customer of this bank
Average amount available in accounts and amount that is currently readily available
Amount should be listed in local currency and in U.S. dollars
Signed by bank representative
Notarized by bank representative
Dated by bank representative
Enrollment Fee
Send your $200 enrollment fee to Concordia.
Confirmed Student Handbook
Complete the Confirmed Student Handbook forms and return to the Admission Office. Note that all international students are required to show proof of health insurance prior to enrollment.
I-20 Form
Receive I-20 form from Concordia, take the I-20 to apply for an F-1 student visa for undergraduate study at a U.S. embassy or consulate office in your home country.** You will need to submit form I-901 and pay the I-901 fee at https://studyinthestates.dhs.gov/paying-your-i-901-sevis-fee.
*English proficiency is required by the United States government for an international student to prove they meet all admissions requirements and can come to the U.S. on an F-1 visa status to engage in academic studies. Students in the Intensive English Program (IEP) at Concordia University, Nebraska who successfully pass the Advanced II level will satisfy the English proficiency requirement.