Speech & Debate Scholarships
Each year, Concordia awards speech and debate scholarships to students who wish to compete on an academic intercollegiate extra-curricular team. This is awarded in addition to other financial aid from Concordia. If you qualify for need-based federal, state or university grants, your award will become part of an award package given by the financial aid department.
The scholarships are awarded to hard-working students on an annual basis who exhibit the potential to make a contribution to Concordia's speech team, in whatever capacity they fit best.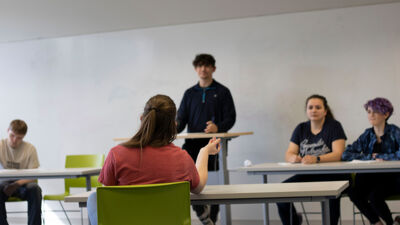 To qualify for the Preferred Performance Scholarship:
Submit your audition or interview to be considered for a speech or debate scholarship at Concordia University.
Audition or Interview
Concordia's speech and debate teams are hyper-inclusive and hyper-competitive. If you are committed to helping the team, at whatever level, you can still receive a speech scholarship, even if you've never competed in speech or debate before.
To audition, complete one of the following:
Send a recorded audition to Joe Davis, director of forensics, via YouTube link at joseph.davis@cune.edu.
Send a recorded audition on flash drive sent to Joe Davis, 800 North Columbia Ave, Seward, NE 68434.
Skype in an audition or interview with Joe Davis
Audition or interview in person.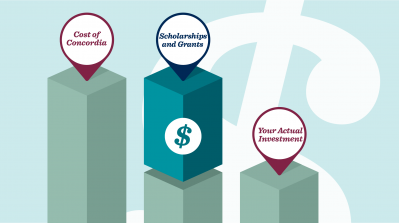 Academic and Performance Scholarships Available
There are a number of scholarships available for you at Concordia. Whether you're participating in one of our performance areas, on one of the 22 athletic teams or for your academic achievements and faith background.