Music Scholarships
Each year, Concordia gives scholarships to music majors and participation scholarships to non-music majors. Recipients of these scholarships participate in ensembles and take private music lessons each semester to continue developing their talents and musicianship. These awards are renewable for four to five years.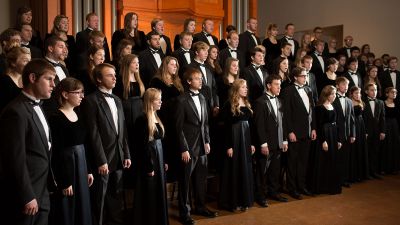 Full-Tuition Music Scholarships
A limited number of full-tuition scholarships are awarded each year to students intending to major in music and who demonstrate outstanding musical skill and potential. Applications and auditions are due October 31 - see audition process below.
Music Participation and Music Major Scholarships
Music scholarships are available to students of any major who intend to take lessons and participate in ensembles throughout their college career. These scholarships are available to new students and are awarded before they begin attending Concordia. No audition is required, but students interested in a music scholarship must mark a performance scholarship Intent (Music) on their application. If an application has already been submitted, the student's admissions counselor should be notified of their music scholarship interest.
To qualify for a music scholarship:
Apply to Concordia and mark a Performance Scholarship Intent in music on your application.
If you've already applied to Concordia, make sure you let your admissions counselor know you're interested in a music scholarship!
(Full-tuition applicants only) Submit your scholarship application and audition.
(Other Music Scholarships) Send a video with samples of your music performance to music@cune.edu – this is so the department can get to know you better and for lesson level placement.
Accepting a Scholarship
If you are offered and accept a music scholarship, you will be required to:
Take an applied music lesson each semester (1 credit; there is an applied music fee)
Participate in a curricular ensemble each semester

Full-Tuition Scholarship Audition Process
Auditions for full-tuition scholarships take place in two rounds. The first round is the submission of a video performance and music scholarship application, which must be received no later than October 31. Finalists selected for the second round are invited to Concordia's campus for live auditions.
Video Audition Guidelines
Video auditions should include two pieces and total no more than 10 minutes. The two pieces must be of two different or contrasting styles.
Voice: Perform a classical art song, aria, vocal jazz and/or musical theatre piece. (Foreign language is not required.)
Organ or Piano: Perform any selections from the standard repertory.
Brass, Woodwinds, Strings: Perform a solo and/or etude from standard repertory.
Percussion: Perform solo selections from standard repertory on melodic and/or non-melodic percussion instruments.
Guitar: Perform any selections from the classical or folk genres.
You should have an accompanist where appropriate. Recorded accompaniment is allowed.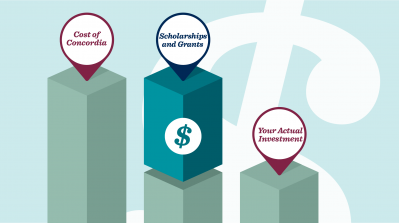 Academic and Performance Scholarships Available
There are a number of scholarships available for you at Concordia. Whether you're participating in one of our performance areas, on one of the 22 athletic teams or for your academic achievements and faith background.