Music Scholarships
Each year, Concordia awards auditioned scholarships to music majors and participation scholarships to non-music majors. Recipients of these scholarships participate in ensembles and take private music lessons each semester to continue developing their talents and musicianship. These awards are renewable for four to five years.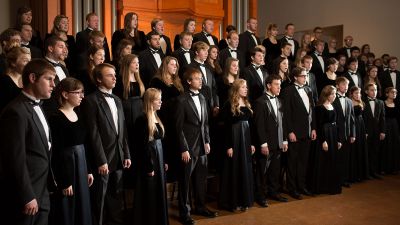 Scholarships
Music scholarships are available to music majors and non-majors. Specific amounts awarded are subject to change each year. For students entering in Fall 2024:
Non-majors who participate in an ensemble and take applied lessons on their instrument receive $4,000 per year. No audition is necessary, but students should indicate their interest in a music scholarship on their application for admission to Concordia (contact your admissions counselor if you have already submitted an application for admission).
Music majors receive $5,000 or more per year. Auditions are held year-round by video prepared and uploaded by applicants. See the instructions below.
Music majors submitting auditions by October 31 will automatically be considered for a full-tuition scholarship. No separate application is necessary. Finalists will be called back for a December in-person audition.
Instructions for music majors
First, complete an application for admission to Concordia. We cannot consider your scholarship application until this is done. Mark a performance scholarship intent on your application.
Record your video audition and upload it to a file sharing site (an "unlisted" video on YouTube works well). Auditions should be under 10 minutes in length and should include two pieces in contrasting styles. See specific instructions for various instruments on the scholarship application.
Submit your music scholarship application.
Submit your FAFSA.
If possible, arrange a personalized visit to campus. We would like to meet you when you aren't stressed about an audition.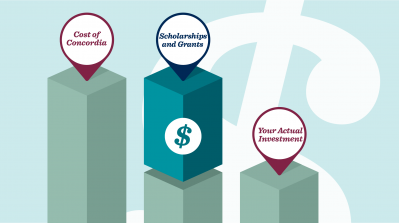 Academic and Performance Scholarships Available
There are a number of scholarships available for you at Concordia. Whether you're participating in one of our performance areas, on one of the 22 athletic teams or for your academic achievements and faith background.