Leadership Job Titles and Responsibilities
Published by Concordia University, Nebraska 4 years ago on Thu, Jan 24, 2019 8:35 AM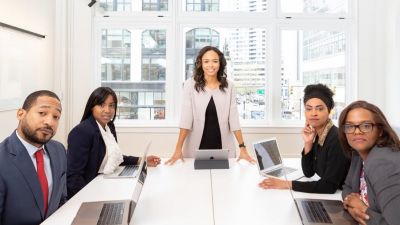 While the titles of the ranking members of any large company may sound like a veritable alphabet soup, each of these top positions has their own set of unique challenges and responsibilities, and the road to each may be very different. If you want to enter the fast-paced world of business with an eye toward the top, it's helpful to fully understand what falls under each of the leadership job titles and responsibilities. From CEO to VP and from CFO to COO, here's a look at what each of these top-dog positions entail.
Common Leadership Job Titles
It's important to note that every business entity is different. These same titles may mean one thing at one company but something slightly different at another company. The differences in responsibilities are largely dictated by size. For the sake of simplicity, the following descriptions are general, but they offer a great jumping point off point into the world of the top leadership job titles and responsibilities.
Chairman
In terms of the "buck stops here," the chairman is it, though not necessarily on a day-to-day basis. As chairman, you sit at the head of the board of directors, which is the group that steers the company. From this seat, you'd have full leadership command while promoting a collaborative environment that fosters excellent communication. Among other things, you'd control the company's policies, are the public face of the company and ensure that overall strategic objectives are met. Chairmen are figureheads and big-picture thinkers, and you wouldn't necessarily concern yourself with daily operations.
Chief Executive Officer
CEOs, or chief executive officers, have their boots on the ground, running the company from one day to the next. As CEO, you would execute the board's vision, which means you need to be well versed in every aspect of management and business, including strategy, finances, marketing and much more. Aside from having the necessary business chops, CEOs need to inspire employees by successfully communicating the company's vision. You would also need to be able to make quick decisions while adhering to both short- and long-term goals.
Chief Operating Officer
The chief operating officers (COO) are often referred to as the second-in-command, just below CEOs. While CEOs are the boots-on-the-ground people for the board, COOs get their boots muddy by ensuring that operations across the company are running smoothly. The position for COOs is especially tricky to describe in generic terms since it largely depends upon what the company does. A COO at a software company, for example, you may oversee product development, but as COO at a retail magazine, you may concentrate on sales and marketing. 
Chief Financial Officer
There is very little grey area on what chief financial officers (CFO) do; they oversee a company's financial and tax strategies. The only thing that can change the job description and area of responsibilities is the size of the company. As CFO of a large, publicly-traded company, you'd have a far different job than that of a smaller, privately-held company. In both cases, however, you would work in lockstep with the CEO and COO as the financial piece of the company's strategic planning and business operations puzzles. In some cases, you'd also oversee risk management, as well as business administration.
Vice President
Though it may seem that vice presidents (VP) are second only to presidents, operational VP positions at large companies are often the lowest-level positions in a leadership hierarchy. As VP, you still occupy a powerful position, though, because operational VPs are often the heads of different departments, from accounting to human resources. In small companies, VPs usually are second-in-command and have all the responsibilities that presidents do except you are largely responsible for putting things into action. It's worth noting that a VP position on the board of directors is an entirely different matter and comes with a far greater purview than an operational VP.
Becoming a Leader
Learn how to build and lead efficient, cohesive teams in an ever-changing business environment with the innovative Leadership and Managing Teams through Change online graduate business certificate from Concordia University, Nebraska's online MBA program.
Our MBA program is ideal for anyone interested in climbing the ladder to a top leadership job title. We'll teach you how to communicate clearly and effectively, resolve conflicts and manage a diverse team. Evening courses let you advance your education without taking time away from your current job. Our cohort-based approach also gives you the support of fellow students, so you can build a professional network and reinforce case studies as you learn with your peers.