Golden Careers: Gerontology in Action
Published by Concordia University, Nebraska 4 years ago on Fri, Oct 26, 2018 8:44 AM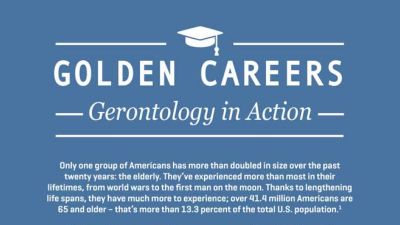 Only one group of Americans has more than doubled in size over the past twenty years: the elderly. They've experienced more than most in their lifetimes, from world wars to the first man on the moon. Thanks to lengthening life spans, they have much more to experience; over 41.4 million Americans are 65 and older – that's more than 13.3 percent of the total U.S. population.1
As this golden group ages, how can we serve and love the elders that hold such a special place in our communities and families?
GERONTOLOGY CAREERS
Case worker
The role of geriatric social workers includes:
Helping senior citizens cope with common problems experienced by the elderly
Ensuring the needs of their clients are met from day-to-day
Providing aid with financial issues, medical care, mental disorders and social problems
Geriatric care manager
Care managers help the elderly and their loved ones develop a long-term care plan and connect with necessary services.
Healthcare business manager
These managers make sure healthcare facilities provide the most effective patient care. This includes planning and coordinating services in hospitals and clinics.
Art therapist
Art therapy uses the visual and auditory arts to help restore function and general wellbeing. Benefits can include:
Increased cognitive skills
Intellectual stimulation
Improved motor skills
Alleviated pain
Socialization
Self-expression
78 percent of art therapists report working with older adults on a regular basis.2
Grief counselor
Grief counselors help seniors process bereavement and loss, as well as cope with thoughts of their own death.
Assisted living administrator
Administrators manage assisted living facilities or services, which provide care to adults who need help with daily tasks like bathing, eating and dressing.
Health educator
These educators provide the elderly with lessons that inform them about health concerns.
Physical therapist
Physical therapists help aging adults strengthen their muscles, increase mobility and improve endurance. They also help with recovery from an injury or illness.
HELPING AND HEALING
The elderly are likely to face hardships, but with our help, they don't have to go through them alone.
Bereavement and loss
A natural part of the aging process is experiencing the loss of loved ones as well as coping with one's own progressing age. Seniors often experience bereavement and loss differently than younger adults, which puts them at risk for depression, anxiety and PTSD. Grieving seniors can benefit from the support others as they work through difficult times.
75 percent of adults 50 and older reported finding humor and laughter in their daily lives.3
Family caregiving
Family caregivers play a crucial role in keeping the elderly comfortable at home by providing support like:
Economic resources
Loving relationships and companionship
Minimal health and wellness assistance
Support with day-to-day needs
More than 10 percent of the U.S. population have served as unpaid caregivers for older adults.4
Health promotion and self-care
Age can prevent seniors from properly taking care of their bodies, but we can help our loved ones stay beautiful and healthy. Helping the elderly groom themselves, receive regular medical attention and stay active can go a long way in promoting general wellbeing.
Disabilities
In more extreme cases, seniors may experience disabilities or other chronic health conditions. You can support older adults by ensuring they can access the healthcare professionals and resources they need. This might involve assistance with transportation and attending to business, legal and medical concerns.
75 percent of seniors have at least one chronic health condition, and most have two or more.5
End-of-life and palliative care
As our loved ones enter their final days, specialized care can help provide relief from the symptoms and stress. End-of-life and palliative care makes their last days as pain-free and comfortable as possible.
Quality of long-term care
Fortunately, there are a number of geriatric professionals trained to provide excellent care for aging adults in all of these areas. A growing population of the elderly means the demand for these practitioners is greater than ever – and there are more opportunities for you to bring wellness and care into the lives of the elderly than ever.
Interested in a career in a gerontology? Pursuing an online master's degree can help. Learn more at: https://www.cune.edu/academics/graduate/master-healthcare-administration/gerontology/
SOURCES
https://www.merckmanuals.com/professional/geriatrics/social-issues-in-the-elderly/family-caregiving-for-the-elderly
National Council on Aging