What is Fashion Marketing and How Can I Succeed?
Published by Concordia University, Nebraska 2 years ago on Tue, Jun 29, 2021 11:28 AM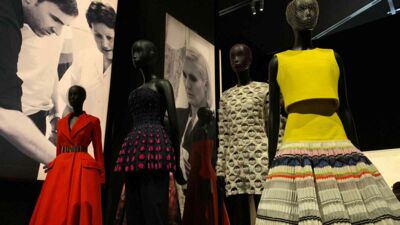 Fashion marketing is a branch of marketing that deals with the advertising of clothing and accessories to a specific target market. This type of marketing includes ads in newspapers, magazines and social media platforms, along with commercials on television.
The most important aspect of fashion marketing is identifying the target market that the clothing will be aimed at. Other aspects of fashion marketing are deciding how products will be displayed in stores; this is where creativity and resourcefulness come in handy. This also includes staying on top of trends and having a keen eye for the perfect point in which to launch a campaign to make the right impact. Having a background in marketing is useful because it provides one with knowledge of analytics and consumer trends.
Why is Fashion Marketing Important?
Fashion marketing is key in the fashion industry because it brings the creation and vision of the designer to life. Fashion marketing brings creations from designers all over and takes their creations to wholesale buyers and consumers. In the fashion industry, fashion marketing helps the buyers connect to the brand. If executed correctly, the story behind the clothing, the message from the designer, and what the company stands for will be understood. This is essential for a designer to succeed and create an image and trend for themselves. When marketing for a brand, it is vital that the marketing helps create loyal buyers for the brand, along with improving the company's image.
Skills Needed
Some key skills to have in order to be in fashion marketing are being able to raise awareness of products, promote products and intrigue customers. Some other skills to possess are being able to research consumer trends and provide products that will best fit those needs, along with being able to plan goal-oriented campaigns that will help drive sales and boost revenue. Being in fashion marketing is all about staying on top of consumer trends, finding trends that best suit the needs of target markets and making data-driven decisions for future trends and strategically applying them to ideas and designs for future marketing efforts.
Apart from these core skills, some qualitative skills needed are having an interest in fashion and a creative mind, while also being able to understand and differentiate between fabric types and styles. Emotional intelligence is also important because it can help distinguish a relationship with the consumer which will then lead to an elevated brand campaign.
How to Successfully Market a Fashion Brand
Understanding the 4 P's (product, price, place, promotion) in fashion and having a great product is essential for the foundation of one's business.
A product is a good or service that meets consumer's needs or desires. The price charged for a product can help determine the consumer's value of the product and whether or not it fits their personality. Referring back to the target market, when a designer creates their product, they need to think of who their target market is, their personality, along with what they do for a living. This will help set the tone for how to sell the product and at what price. The place of the product refers to selling the product at the right place and the right time, meaning where you sell your product will influence which consumers will buy the product and how they will value it. Promoting the product is key; this is where marketing comes into play. Successful promotion of the product will help establish the brand and generate profit for the company. All of these concepts will be beneficial when creating a marketing plan for a brand.
Social media, now more than ever, plays an important role when it comes to spreading awareness and informing potential consumers of a brand and its product. Social media can be used as a platform to sell and create the experience of buying products from one's brand. Brand ambassadors can also be used to promote and spread awareness of one's product and brand. They can often be identified as a brand "cheerleader". Knowing what social media platform to use that will best fit your brand and fashion line is key to reaching a brand's target market.
What are some Careers in Fashion Marketing?
According to Martech Advisor some specialized careers in fashion marketing are:
Fashion marketing manager/director: Responsible for managing and formulating ways to improve the way a brand markets their products of fashion and help drive more sales. They manage branding efforts and create advertising campaigns for fashion-related businesses, stores, and brands. They will determine the decisions of cost, product design and where to sell and advertise products. Must hold an undergraduate degree in fashion, marketing or management field from a recognized college/ university.
Salary: $64k-$89k
Fashion coordinator: Responsible for creating a unified look across all fashion divisions such as department stores, design houses or fashion magazines. They constantly monitor industry publications and talk to designers to seek industry trends. They accumulate data on industry trends and share analyses with retail salespeople or editors to make recommendations to customers and buyers to make inventory purchases. Help establish a company's brand and placement of products in-store.
Salary: $40k-$100k
Market research analyst: Studies the way an audience responds to fashion trends, sales numbers and the potential for new trends to succeed. One will need science and art skills in order to track modern trends, analyze buying patterns of consumers and make predictions that will drive sales. One will also study consumer buying habits, pop culture and trends for each season. Be highly attuned in the fashion world and possess observational and analytical thinking skills to create methods such as point-of-sale tracking, focus groups and brand styles and trends which will develop effective marketing strategies.
Salary: $68k-$133k
Publicist: Creates an image for their client's brand that every single member of the public will think of when they see that specific brand. Determines the best strategy to get their client's product out into the world. This can be done by researching who their competitors are, how to make the consumers choose their client's brand over others and how to make their brand grow. Assists on not only the promoting of the brand and clothing, but the emotional side the clothing represents. Helps create a brand statement and marketing campaign.
Salary $35k-$60K
Are you Ready for a Rewarding Career in Fashion Marketing?
To start your path to a rewarding fashion marketing career, check out Concordia's marketing program.
Steps to Take
When thinking of going into the area of fashion marketing, one could achieve a position by having a degree in marketing with a focus in the business of fashion. By taking courses in marketing, this will provide one with the skills to read fashion trends, understand what consumers want and help fashion businesses thrive.
Here at Concordia, we offer many courses that can help you succeed in business, especially the marketing field. Some classes we offer that can be beneficial for fashion marketing include:
Advertising and Integrated Marketing Bus 362: How marketers communicate — advertising, sales promotion, public relations, direct and personal selling, event planning, sponsorships.
Consumer Behavior Bus 364: Studies the 'why' of marketing; why consumers prefer certain products and services. Specifically, the consumer buying process; the process one goes through when choosing a good or service to purchase. This course will help one determine strategies for marketing and how to better market a brand and generate profit.
International Business Bus 369: This course will help one understand the importance of international firms and the activities they engage in. It will also cover foreign economies, legal and cultural environments, along with studying international marketing management and special problems of multi-national corporations.