Chatting It Up: How to Increase Student Talk Time in The ESL Classroom
Published by Concordia University, Nebraska 3 years ago on Fri, Aug 9, 2019 8:15 AM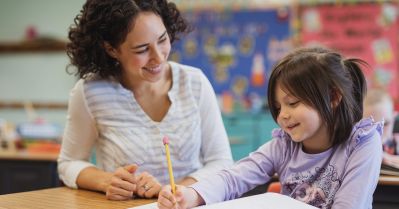 The temptation to engage in too much teacher talk can get the best of even an experienced educator. Over time, though, you can discover ways to make sure that students are talking for about 75% of the lesson in order to stay engaged and active. But what about when you and your students don't share the same language?
In those instances, students can feel reluctant to speak up in your class out of fear of making a mistake or simply not knowing what to do. When students speak different languages from each other as well as from you, the room can even start to devolve into long stretches of empty silence.
Increasing student talk time is hard, but it's key to developing your students' comfort with a new language, and nothing can take the place of it. This article will discuss techniques you can use as an ESL educator to motivate and encourage student talk time.  
What is Student Talk Time in a Classroom?
Traditionally, classroom teachers discouraged students from talking. The words "talk time" often stood as code for "interrupts class" in disciplinary notes sent home or to the administration. In modern class settings, however, we realize that students need to talk in order to engage with the material and express their ideas. Student talk time also allows you to assess students for any misunderstandings or misapplication of information, which gives you a chance to correct a wrong idea before it gets stuck in the students' brains. 
Of course, no teacher wants to encourage undirected chattiness just to fill time, but purposeful talk in the classroom helps you create a learning-centered environment. As M.I.F. Kareema, a lecturer in English at South Eastern University of Sri Lanka, wrote in her research, "Though (students) have more knowledge in structure, they are unable to apply that in the real communication. Whether it is oral or written, communication is the main target of a language." 
Why is Student Talk Time Important in The ESL Classroom? 
Over the past five to10 years, the ideal of a Western education has transitioned from a teacher-centered classroom to a learner-centered environment. The emphasis has moved from compliance with standards to student empowerment and innovation. In that context, student talk time engages learners and helps improve academic performance in all classrooms particularly ones focused on learning word-based content. In the book "Content-Area Conversations," the authors wrote that "oracy is the foundation of literacy." 
For the ESL classroom, the issue of teacher talk vs student talk becomes even more critical since English language learners need to practice speaking and listening in a controlled and supportive setting. Many motivated students will engage with English outside the classroom by listening to podcasts, reading articles or watching YouTube videos. But these passive forms of learning cannot replace expressive speech. ESL students need a safe and instructive place in which to practice and hone their skills and integrate new knowledge into their speech. 
Teacher Talk vs Student Talk Time: The Value of Both
Emphasizing student talk time doesn't mean there is no place in the modern classroom for you to talk to your students. A group of learners talking among themselves can inadvertently share false information, reinforce bad speech habits or leave poor grammar and syntax uncorrected. Learners, by definition, are not teachers, and the brunt of teaching cannot fall on their shoulders. Nearly any classroom, therefore, can benefit from direct instruction. In fact, the rule of thumb says a teacher should talk for 20% to 30% of a class session. 
In your ESL classroom, you provide the fullest and most accurate expression of the English language in the room. You naturally introduce vocabulary, expression and ways of speaking that students can imitate and later incorporate into their own speech patterns. Your work helps contextualize language into a human-centered relationship in a way that a book or an audio recording can never do. Moreover, you can ask questions, tell stories, share anecdotes and model conversational styles fluently and naturally. The experts at the British Council noted:
The teacher provides good listening practice, which is not inhibited by the sound quality of a tape or CD player and which is accompanied by visual clues to aid comprehension. In a monolingual teaching context overseas, the teacher may provide a valuable source of authentic listening. 
Student talk, however, requires larger blocks of time than teacher talk in part because ESL students typically take much longer to express themselves than the teacher does. When practicing conversations with each other, students may struggle to understand and need more time to repeat themselves or to assist each other. Both teacher talk and student talk add value to the classroom, but once teacher talk takes more than 30% of class time, its value drops remarkably. In more advanced classes, teacher talk time may reach its peak value at just 10% of the class time.
Techniques to Increase Student Talk Time 
What are some good student talk strategies for the ESL classroom? 
Use groupwork or paired work. Instead of engaging in dialogue with students themselves, you can divide the class into pairs and have them practice conversations. Groups can work together on writing assignments or to develop speeches or make videos all while speaking English to each other. In these scenarios, you can provide oversight and support without dominating the class conversation. 
Ask students to read and explain the instructions. Letting early ESL learners read the instructions aloud and explain them to the class can provide a great way for you to give your voice a rest while centering the student. And since the words are written down, it feels a lot safer and easier for the learner to get started with English.
Ask open-ended questions. Moving beyond yes/no questions or those that require just one-word answers can prove tough for any class, but it's a great way to get students engaged. Just one or two students who love to share stories, information or opinions can get the whole class talking about the topic of the day.
Avoid excessive explanations. Probably the most difficult technique to implement is just to stop talking after giving the initial instruction or explanation. Teachers who can curb their own voice after a single explanation will see a lot of reward in increased student attention and interaction.
Activities to Increase Student Talk Time 
Some effective classroom discussion strategies for engaging all students include the following:
Set up roleplays. Some students enjoy creating their own dialogues and then acting them out for the class, and most students will engage if you give them a chance to take on a character. Job interviews, part-child discussions, squabbles between neighbors or visits to the doctor can make great role plays.
Imitate Socrates. The Greek philosopher Socrates pretended to know nothing, peppering his students with brain-twisting questions that got them thinking. You can get your ESL students started having a discussion among themselves about a powerful question.
Don't be afraid of quiet. Sometimes, students feel reluctant to participate, and so a great silence descends on the classroom. As a teacher, you may feel like you need to fill that silence with your own voice, but you don't. Just wait until one of the students gets so uncomfortable with the silence that they are willing to risk talking.
Spark mini debates. Depending on your context, you may not want to introduce controversial topics. Still, nothing gets people talking quite so eagerly as a good debate. Some debate topics for your classroom could include whether children should provide support for aging parents or high school students should wear uniforms.
The Benefits of Increased Student Talk Time in ESL Classrooms
An ESL students' ultimate goal in the classroom is to improve communication skills. Only plenty of loosely structured time to talk will generate that improvement. By increasing student talk time, you gently force students to learn new vocabulary, compensate for what they don't know, help each other and overcome barriers of shyness. Typically, teachers who re-center the classroom around learners while taking on a role as a coach and evaluator can expect measurable improvement in student cognition in a short time.
If you are a current educator who can see yourself teaching in an ESL classroom, you can prepare for your new career right now through an online master of education in TESOL. This degree prepares students to teach English as a Second Language in K-12 settings, refugee centers and educational institutions around the world.
Concordia University of Nebraska's program is designed with working students in mind. Our 36-credit online degree can be completed on a timeline that works for you, so you can advance your career at a pace that fits into your busy life. We offer two options for scheduling, traditional and accelerated. Traditional-progression students will take one course at a time and can complete their degree program in 24 months. Fast Track candidates have the option of doubling up courses at three specific times and can complete this program in as little as 18 months.