Concordia University System Semester Exchange
Our reciprocity agreement within the Concordia University System arranges for visiting students to pay tuition at their home institution while paying the room and board charge of the host institution.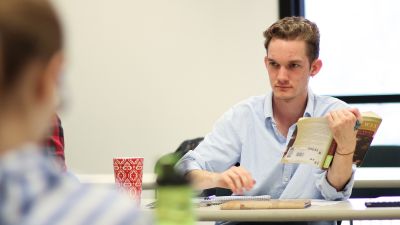 Concordia Nebraska students may study for a semester at any of our eight sister institutions:
Concordia – Ann Arbor
Concordia – Austin
Concordia – Chicago
Concordia – Irvine
Concordia – Mequon
Concordia – New York
Concordia – Portland
Concordia – St. Paul
Planning ahead is important. If you want to visit in the Fall semester, you should begin the application process in March. If you want to visit in the Spring semester, you should begin the application process in October.
Student Eligibility
Students currently enrolled and in good standing at Concordia Nebraska are eligible to apply for the Visiting Student program of the Concordia University System.
Visiting Students are to have completed at least one term at the home campus, have at least a sophomore standing.
Students MUST have a minimum 2.5 cumulative GPA, both at the time of application and at the beginning of any "visiting" semester.
Students are limited to 2 semesters (three quarters) visiting other campuses. A second semester at the host institution is not guaranteed.
Enrollment in summer or other special short academic sessions is not part of the Visiting Student program.
Students must be in good standing, meaning they cannot have any pending academic issues, financial holds or disciplinary probation.
To visit another campus, students must first be approved by Concordia Nebraska and then accepted by the "host" campus. Some campuses have special criteria and limited space.
Students are subject to the guidelines and policies established and administered by the host institution.
Students may not participate in athletics at the visiting Concordia institution.
The host institution does guarantee acceptance. Most have a limit on how many visiting students they will accept.
Courses Eligible
Coursework at host campus should be beneficial to the overall education.
Coursework is to apply to a specific program and must be pre-approved by the student's academic advisor. Students should work closely with Concordia Nebraska to determine if courses taken through the Visiting Student Program will meet program requirements of Concordia Nebraska.
Due to Nebraska state certification guidelines, Concordia Nebraska students cannot take education courses at host campuses.
Acceptance is determined by the host institution and not guaranteed. Contact the Registrar's Office for more information or to submit an application.