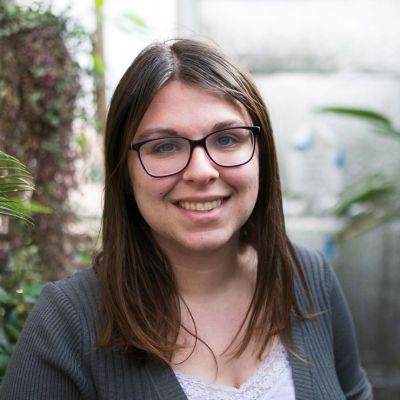 Erin Rowland
St. Louis, Missouri
In Concordia's biology department, there are so many professors who view the world as something that we are stewards of and caretakers of, and it's our duty to make this planet the best place that it can be.
Erin Rowland's passions are diverse and wide-ranging, so it was important to her to find a college where she could pursue all the different things she loves, to help her grow spiritually, academically and personally. Erin found that support at Concordia University, Nebraska.
"I really appreciate that at Concordia I don't have to just be one thing," says Erin. The organismal biology major not only assists her professors with the Raptor Recovery program and in the greenhouse on campus, but also helps design, create and execute costumes for the theatre department. "I think it sets us up to be multi-dimensional people who are prepared to adapt to challenges in the real world," Erin says.
Erin also doesn't have to choose between her faith and her love of science. At Concordia, Christ is a part of all aspects of campus, even in the science classroom. "In Concordia's biology department, there are so many professors who view the world as something that we are stewards of and caretakers of," says Erin, "And it's our duty given by God to make this planet the best place that it can be."
Here, Erin can continue to explore all of her interests, to discover her vocations and elevate her faith. As she says, "The kind of education you get at Concordia where you're taught how you can further the kingdom of God no matter what field you're in is something that's really going to help me use my degree for God's glory."