About Plum Creek Literacy Festival
Founded in 1996, the Plum Creek Literacy Festival seeks to encourage a love of reading, writing, and books by bringing nationally renowned authors and illustrators to Nebraska. The festival started as a one day, one author event, with about 200 adults and children present. Since then, it has grown to three days of presentations, with ten authors and illustrators in 2014. Since 2013, over 10,000 children and adults attend the festival each year. It currently includes sessions for elementary, middle-level and secondary students as well as adults.
The Plum Creek Literacy Festival won the Jane Pope Geske award given by The Nebraska Center for the Book for exceptional literary contributions in 2007. In 2010, it became a Read Aloud Nebraska Champion.
Plum Creek Literacy Festival's Purpose
Founded in 1996, the Plum Creek Literacy Festival is an outreach opportunity of Concordia University, Nebraska to connect children and adults across the region with nationally renowned authors and illustrators. The three-day event aims to inspire participants to read, write, illustrate, create, and follow their dreams. Through the years, Plum Creek has made it possible—free of charge—for thousands of students and educators, including those in rural and underserved communities, to interact with book creators through school visits, art from picture books on display in Concordia's Marxhausen Gallery, and Literacy on the Lawn programming led by Concordia's faculty, staff and students. The festival also holds an adult conference, which provides high-quality professional development at an affordable cost to educators and librarians from all over the country.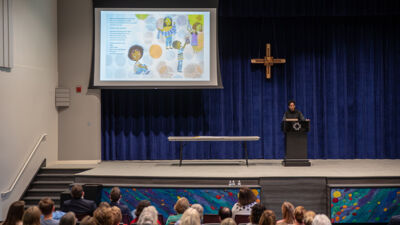 The Plum Creek Literacy Festival is a ministry of Concordia that embodies the university's Promises of a Lutheran Education. With opportunities to explore the world's rich traditions and cultures, festival-goers can enjoy a community of book enthusiasts eager to share their wisdom, foster new thoughts and insights, and enliven faith-seeking understanding for service to others. Encouraging youth to develop their God-given talents and sense of purpose for the future is embedded in the Christ-centered mission of the festival. Plum Creek tends the insight of Dr. Rudine Sims Bishop that books should serve as windows, mirrors, and sliding glass doors. To best serve the diverse population attending the festival, Plum Creek invites a wide range of book creators who bring various viewpoints and selects titles that provide opportunity for readers to develop a broader understanding of His kingdom. This approach allows participants to consider experiences both different from and reflective of their own and to think critically about the narratives and characters they encounter in the books they read by the creators they meet.
Concordia is a Christian university with a distinctly Lutheran identity built upon a foundation of faith in Jesus Christ. Plum Creek builds upon that foundation through intentional efforts to support, develop, and encourage literacy as a vital gateway for serving all of God's children. As Christians who are motivated by the conviction found in His Word, we celebrate the importance of literacy in all aspects of our daily lives. We share the joy found in every heart and the knowledge gained in every mind through reading. And for many, we hope that love of literacy will guide them to discover and cherish the treasures of the written Word.
Concordia and Plum Creek remain committed to our core beliefs while embracing a spirit of humility and a genuine desire to love and learn from our many neighbors in the world. Evaluations from educators and librarians who bring their students reflect the ways in which the festival has had a positive impact on helping children kindle a love for literature and learning; spark questions and curiosity about new ideas; and grow as inquisitive and responsible human beings who meet life's challenges with confidence, respect, and resilience. In keeping with its mission, Concordia intends Plum Creek to assist participants in faithfully pursuing lives of learning, leadership, and service. We invite you to experience and join in the endeavor!
Featured Authors and Illustrators Over the Years
2022

Caroline Arnold, Tim Bowers, Tamara Bundy, Maryann Cocca-Leffler, Lulu Delacre, Guy Francis, Keiko Kasza, EB Lewis, Jennifer Nielsen, Jerry Pallotta, Amy Parker, Matthew Reinhart, Antonio Sacre, Roland Smith, James Solheim, Kerron Stark, Jennifer Ward. David Macaulay and Pam Muñoz Ryan at the Adult Conference. Picture Book Extravaganza in March with Mark and Caralyn Buehner, Sarah Dillard, Julie Paschkis and Leslie Patricelli.

2021

Spring Festival: Bryan Collier, Heather Fox, John Hendrix, Gordon Korman, Peter Lerangis, Steve Light, Daniel Miyares, Sherri Duskey Rinker, Grant Snider, David Soman, Javaka Steptoe, Jonathan Stutzman and Evan Turk.

Special Breakfast and Books Program in July 2021 with Lou Fancher/Steve Johnson; Lynne Rae Perkins; Jackie Urbanovic.

2020

Breakfast and Books event with Stephen T. Johnson and Mark Teague. ​
(Fall Festival postponed to April 2021 due to Covid-19)

2019

Sarah Albee, Ben Clanton, Lita Judge, Alan Katz, Kekla Magoon, Wendell and Florence Minor, Barbara O'Connor, Lin Oliver, Jason Reynolds, Lori Richmond, Stephen Savage, Matt Tavares, Duncan Tonatiuh and Eugene Yelchin. Kate DiCamillo and Jacqueline Woodson at the adult conference. Breakfast and Books event in March with Molly Bang, David Small, and Sarah Stewart.

2018

Laurie Halse Anderson, Brian Biggs, Harry Bliss, Suzanne Bloom, Bruce Degen, Kelly DiPucchio, Chris Grabenstein, Ryan T. Higgins, Scott Magoon, Megan McDonald, Zachariah OHora, James Ransome, Lesa Cline-Ransome, Adam Rex, Steve Sheinkin. Jon Scieszka and Peter H. Reynolds at the adult conference. Breakfast and Books event in March with Carmen Agra Deedy. Special tour events with Jan Brett and Kate DiCamillo.

2017

Joan Bauer, Lauren Castillo, Henry Cole, Matthew Cordell, Rebecca Kai Dotlich, Sharon Draper, Tad Hills, Jennifer Holm, Matt Holm, Brandon Mull, Christian Robinson, Laura Vaccaro Seeger, Phil Stead, Melissa Sweet. Patricia MacLachlan and Kadir Nelson at the Adult Conference. Special Breakfast and Books event with Jane Yolen and Heidi Stemple in March. Special Tour Event with David Shannon in October.

2016

Peter Brown, David Carter, Matt de la Pena, Brian Floca, Loren Long, Linda Sue Park, Trent Reedy, Aaron Reynolds, Bob Shea, Salina Yoon. Louis Sachar and Sara Pennypacker at the Adult Conference. Special tour event on October 25 with Dav Pilkey

2015

Andrew Clements, Carmen Deedy, Denise Fleming, Eric Litwin, Peter Lourie, Jerry Pallotta, Janet Stevens. Richard Peck at the Adult Conference. Special SKYPE session with Tomie dePaola. Special tour event on December 8 with Jan Brett.

2014

Nick Bruel, Floyd Cooper, Jack Gantos, J. Patrick Lewis, Brian Lies, Dandi Mackall, Jim Murphy, Steve Jenkins, and Jeff Kurrus. Rosemary Wells at the Adult Conference.

2013

Anna Dewdney, Candace Fleming, Marla Frazee, Barbara McClintock, Marc Tyler Nobleman, Eric Rohmann, Judy Schachner, and Neal Shusterman. Kevin Henkes at the Adult Conference.

2012

R.W. and Zoe Alley, Jarrett Kosoczka, Tom Lichtenheld, Andrea Pinkney, Ted Scheu, Gary Schmidt, and Clare Vanderpool. David Wiesner at the Adult Conference.

2011

Eileen Christelow, Bill Harley, Grace Lin, Brian Pinkney, Barbara Robinson, Roland Smith and DyAnne DiSalvo. Jerry Pinkney at the Endowment Dinner.

2010

Ashley Bryan, Alyssa Capucilli, Dan Gutman, Ralph Masiello, Patricia Polacco, Pat Schories, and Sarah Weeks. Carmen Deedy & John McCutcheon at the Endowment Dinner.

2009

John Archambault, David Biedrzycki, John Erickson, Carmen Deedy, Shelley Gill, Gordon Korman, and Preston McDaniels. Authors Readers Theater: Avi, Sarah Weeks, Richard Peck and Pam Muñoz Ryan at the Endowment Dinner.

2008

Cynthia DeFelice, Gail Gibbons, Mo Willems, Mike Graf, Joan Bauer, and Hans Wilhelm. Lois Lowry at the Endowment Dinner.

2007

Andrew Clements, Ted & Betsy Lewin, Peg Kehret, Robin Brickman, and Richard Peck. Laura Numeroff at the Endowment Dinner.

2006

Ted Kooser (U.S. Poet Laureate), Tedd Arnold, Joseph Bruchac, Patricia Reilly Giff, Nikki Grimes, and Ashley Wolff. Marc Brown at the Endowment Dinner.

2005

Janet Stevens, Susan Stevens Crummel, Pam Muñoz Ryan, Elisa Carbone, W. Nikola-Lisa and Stephen Swinburne

2004

Steven Kellogg, Patricia McKissack, Ben Mikaelsen, Jerry Pallotta

2003

Brod Bagert, Lisa Campbell Ernst, June Rae Wood, Susan Campbell Bartoletti, Brad Sneed

2002

EB Lewis, Jim Aylesworth, Mary Downing Hahn, Sneed Collard III, Sandy Asher

2001

Will Hobbs, Cheryl Harness, Helen Lester, Teri Sloat

2000

Paul O. Zelinsky, Denise Fleming, Patricia Calvert, Caroline Arnold

1999

Emily Arnold McCully, Ivy Ruckman, Chris Demarest, David Harrison

1998

Ruth Heller, Shirley Climo

1997

William Anderson

1996

Janet Stevens