Concordia University, Nebraska alum Jeff Gilbertson named Nebraska State Association of Secondary School Principals High School Principal of the Year
Published by Olivia Dunklau 1 month ago on Thu, Aug 11, 2022 2:54 PM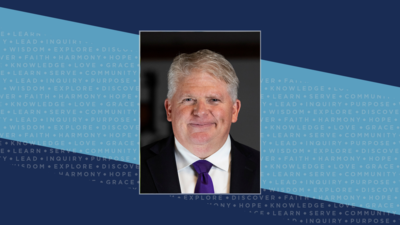 Jeff Gilbertson '96 has been selected as the 2022 High School Principal of the Year by the The Nebraska State Association of Secondary School Principals. This award is presented annually to a principal who has demonstrated outstanding leadership in their school, region, and at the state level and honors principals who have demonstrated excellence in the areas of personal excellence, collaborative leadership, curriculum, instruction, assessment, and personalization.
Gilbertson received his Bachelor of Science degree in history and sociology from the University of Nebraska in Lincoln in 1989 and his Bachelor of Science in elementary education from Concordia University, Nebraska in 1996. In 2001, he earned his Master of Education in Educational Leadership from Doane University. In 2017, he received his education specialist degree from Doane University.
Mr. Gilbertson began his education career in 1996 as an elementary teacher in Lincoln at Brownell Elementary and Ruth Hill Elementary. In 2001, he became an elementary principal in Grand Island and also served as a middle school principal. Mr. Gilbertson then served as a Director of Secondary Education for Grand Island Public School, and in 2012 he became the Executive High School Principal at Grand Island Senior High.
Mr. Gilbertson has been a member of the Nebraska Council of School Administrators (NCSA) for 18 years, the Nebraska State Association of Secondary School Principals (NSASSP) for 13 years, and the National Association of Secondary School Principals (NASSP) for 11 years.