Wohlgemuths make their marks
Published by Logan Tuttle 1 year ago on Thu, Feb 25, 2021 3:59 PM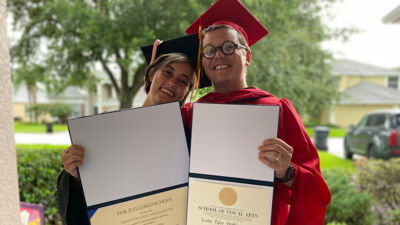 Meredith (Locke) '18 and Luke Wohlgemuth '16 both earned their graduate degrees in 2020, and are sharing their God-given talents with the world.
Meredith (Locke) Wohlgemuth was a senior in high school when she first stepped on Concordia's campus, traveling from her home in Florida to Seward for Musical Arts Day. During the performance portion of the day, she stood next to a boy named Luke, a sophomore in the A Cappella Choir. They politely introduced themselves and performed, but the two didn't think much more about that interaction.
That fall, Meredith returned to Concordia as a student and the two went on to sing together in A Cappella. At the end of Luke's senior year, they began to date, and in December of 2016, the couple got married.
After Meredith graduated in 2018 with a B.A. in music performance, the couple made the decision to pursue graduate school. They both were accepted to their top choices—which happen to be some of the most prominent schools in the country for their crafts—and located in New York City.
Meredith attended The Juilliard School, where she earned her Master of Music in Opera Performance, and Luke, who graduated from Concordia two years earlier with a B.F.A. in graphic design, attended the School of Visual Arts (SVA), earning his Master of Fine Arts. The pair graduated from their respective programs in May, just as the COVID-19 pandemic was ramping up.
For the two years between Concordia and SVA, Luke, who grew up in Lincoln, Nebraska, worked as a designer at redthread, an advertising agency based in Lincoln. During his graduate program, he was a designer for Schwartz & Wade Books, part of Penguin Random House publishing company, in addition to designing for Beehive Books publishing house. When he finished at SVA, design positions in New York City, and across the country, were hard to come by amid the pandemic.
"I just started emailing as many art directors for as many publications as I could," he says. "It took about four months of emailing before I got my first job."
That first job, which came in August of 2020, was with the New York Times to develop an illustration for a book review.
"I was over the moon about that," Luke says. "It was in the print edition of the New York Times Sunday Edition. The New York Times is one of the biggest commissioners of illustrations throughout the county, they commission hundreds each week for print and online."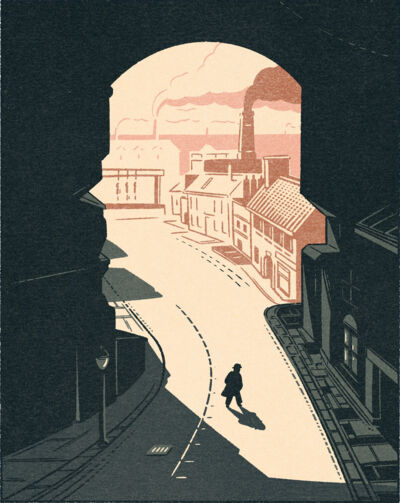 Since that first job, Luke has more than 10 pieces published by the New York Times and has also had a couple printed in the New Yorker magazine.
"The New Yorker has been one of my dreams since I started drawing professionally and becoming more interested in design and illustration," he says.
Working with art directors for national publications comes with a learning curve, Luke says, but with each piece he finishes, the process becomes easier. It typically starts with an art director giving Luke the article he'll illustrate for, then Luke will produce sketches on a tight turnaround for proofing and the final product based on feedback. Turnaround times vary, he says. It could be a week, or it could be a day.
"I start with thumbnails that are literally the size of a thumbnail, an inch by an inch, just to get the composition and idea out of my head," Luke says about his process. "They're not supposed to be pretty at that point, but I could start with as many as 20 thumbnails, then choose the best ideas to be fleshed out and sent to the director."
The quick turnarounds are challenging, Luke says, but it's a good way to help him bolster his portfolio since he's producing finished pieces at a fast pace.
"It's good for young illustrators like myself to build up that portfolio quickly," he says. "If you're only working on projects that take a month, you're not going to build up that portfolio like you want to."
Once Luke started working with one art director, others started to notice and were reaching out to him for projects.
"It took me 50 to 100 emails to get that first job, and after that, they start rolling in," Luke says. "At the New York Times, there are maybe 30 art directors, and that's a low estimate, and they're all working constantly. I've done six projects with them over the last few months and most of them are with different art directors. It's been fun to work with different people who have different styles."
Since he graduated from Concordia, this type of illustration work is what Luke has wanted to do, he says. Although it was tough to find that first job, he's grateful for each opportunity that comes his way.
"I wouldn't have had these opportunities without Meredith pushing me to apply to SVA in the first place," he says. "I'm not sure I would be illustrating full-time if we had not come to New York. It's surreal and I'm grateful and humbled as well that these art directors are putting their trust in me to help complement the various articles with these illustrations."
After Meredith graduated from Juilliard, she applied for every young artist program and every opera opening she could find. While Luke could illustrate and work remotely, performers have been heavily impacted by the pandemic, she says.
"Thankfully I did complete my Juilliard master's recital two weeks before classes stopped," Meredith says. "That was really special. In that recital, I performed some of my favorite pieces I've been working on for the last two years, including a new piece a friend composed for me."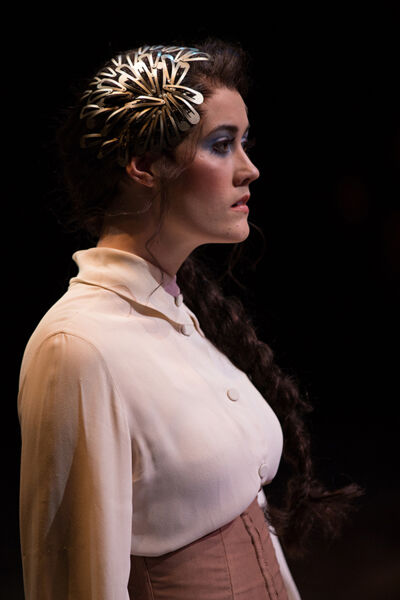 Despite the challenges caused by the pandemic, Meredith, a soprano, was selected as a resident artist at Opera Naples in her home state of Florida, a couple of hours from her family home. She started her six-week program Feb. 1 that includes performances, coaching opportunities and community outreach.
"Usually, we'd sing at schools throughout the week, and since that's not going to happen, there have been a lot of virtual performing and question and answer sessions, which is really cool," she says. "I grew up a few hours north of here, and I think it's so cool as opera singers we get to talk to kids about what opera is and how you can get into it. It's a very interesting art form and it's a career path that isn't really talked about much."
On Feb. 11, the Opera Naples young artists in residency sang at a local country club as part of a fundraising event. It was the first time Meredith performed in front of others since her Juilliard master's recital. If she's performing in front of a large audience, or a more intimate setting, she sees it as sharing her God-given gifts with others as a way to bring glory to Him.
"I'm trying to remind myself that what I do is a gift," she says. "If I'm singing an opera that has nothing to do with God, maybe it's a tragic love story where someone dies, what you do and how you do it can still bring glory to God."
When the Opera Naples residency artists perform West Side Story as the program ends in mid-March, they will be joined by Isabel Leonard, one of the most highly decorated and talented singers in the world.
"Internationally, she is the best of the best," Meredith says. "To be able to sing alongside her, I'm going to do everything I can to keep it together. Not only have I been around fellow younger singers at similar places in our careers as part of the Opera Naples program, we get to sing with the best singers in our industry. It's going to be really special."
After Meredith's program wraps up in March, the couple has talked about possibly moving to Germany, where she can pursue a multitude of opportunities in opera.
"The majority of the world's opera performances take place in Germany," Meredith says. "I'm doing everything I can do to get there. As a young singer, German houses are usually smaller and they're looking for singers who have my voice type. It's a good opportunity to get more experience than I would have in America."
She's a semi-finalist for the Fulbright Scholar Program, and she's been applying to many of the opera houses overseas where she could spend two or three years.
No matter what's next for the Wohlgemuths, they'll continue leaning on each other for inspiration and support.
"Luke really is my partner," Meredith says. "Along with my professors and voice teacher, he gives me that outward motivation to help me realize that I can do this. He's been right there every step of this crazy thing.
"Picking up and going to New York, that's a scary thing. He's been open to everything, he's the best. It's crazy that we even met. We grew up across the country, it's so special that God has brought us together and now we're doing our things."