'Who Do You Say That I Am' Exhibit promotes discussion on human identity
Published by Concordia University, Nebraska 4 years ago on Fri, Feb 1, 2019 11:40 AM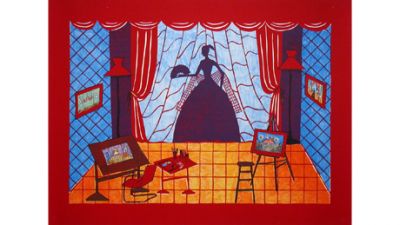 Hollis Sigler's lithograph is one of the many selections from Concordia's Permanent Collection to be featured in the exhibit "Who Do You Say that I Am."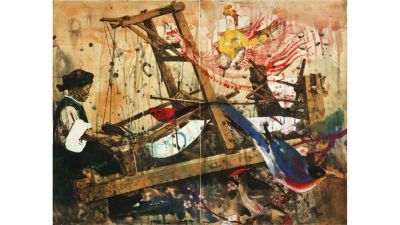 Concordia University, Nebraska's Marxhausen Gallery of Art will host the exhibit, "Who Do You Say that I Am," exploring human identity. It will be available for viewing at the Marxhausen Gallery of Art on Concordia's campus from Feb. 10 through March 29.
A reception will be held on Sunday, Feb. 17 from 1-4 p.m. in the Marxhausen Gallery of Art. There will also be a panel discussion in the Thom Leadership Education Center Auditoriumat 2 p.m.
Borrowing from Concordia's permanent collection of prints and multiples, the show seeks to magnify the complexity of what it means to belong to the species, homo sapiens, among questions of creed, race, gender and sexual identity through a network of human, picture making. A text work by Berlin artist Maja Linke will be included along with a broad range of images and cultural artifacts such as TSA scans, early photographic records of crystallized DNA, a human skeleton and the 1965 photo essay by Life magazine documenting the origins of life. Native American masks and artifacts from Africa will be presented along with children's drawings and original prints by Luis Jiménez, Hollis Sigler, Hung Liu and Georges Rouault.
"Part of the goal for this exhibition is to open up a conversation regarding identity, to explore how particular cultures at once shape and limit our understanding of what it means to be a human being," says James Bockelman, professor of art and director of the Marxhausen Gallery. "Oddly, the same question that Paul Gauguin asked in 1888 is still at the forefront of our self-existence today, 'Who are we, where have we come from, and where are we going?' Paired with the question that Jesus asked His disciples in the New Testament, 'Who do you say that I am?' it is a reminder that we do not belong to ourselves – our identity adapts over time – and who we are is always at once co-shaped by other people in our lives."
The exhibit is open to the public and free of charge. The Marxhausen Gallery is located in Jesse Hall and is open 11 a.m. to 3 p.m., Monday-Friday; and 1-4 p.m., Saturday and Sunday while classes are in session. The gallery is closed for spring recess March 2-10.