"Traces of Place: Recent Sculpture by Joshua Ray Smith" faculty art exhibition underway at Concordia
Published by Concordia University, Nebraska 9 years ago on Wed, Oct 9, 2013 10:30 AM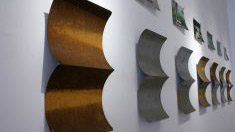 These Time and Place collectors show the atmospheric oxidation of steel and are part of "Traces of Place: Recent Sculpture by Joshua Ray Smith," a faculty art exhibit at Concordia University, Nebraska.
Joshua Smith, a new member of Concordia University, Nebraska's Department of Art, presented his first faculty art exhibition, "Traces of Place: Recent Sculpture by Joshua Ray Smith." The exhibit was open throughout the month of October.
"This work is my lens. It is a meditation on place," Smith wrote in a statement about the exhibit. He explained that he draws his inspiration from "the land, the outdoors, public spaces and passageways."
Smith received his Master of Fine Art degree from Cranbrook Academy of Art in 2005. He served as assistant professor of art at Concordia University in Ann Arbor, Mich., from 2005 to 2007 and as a lecturer for the University of Michigan School of Art and Design from 2007 to 2010. Smith then moved to Wyoming to work on his studio art and research.
Smith's work, according to the artist, is inspired by the influence of space and location on human perception. "The western North American sightline provides eternal distance," said Smith. "The earth's rotation is experienced through the rolling of weather over its surface, as the horizon and arc of the earth's sphere is revealed. This is an experience that has been pivotal in my sensitive awareness to space and place."
The Marxhausen Gallery is the on-campus exhibition space for Concordia and hosts a variety of exhibitions each year. It is located in Jesse Hall and is open Monday – Friday from 11 a.m. to 4 p.m. and Saturday and Sunday from 1 to 4 p.m.