Tom Wrege '85 provides leadership to keep students and staff safe and focused
Published by Concordia University, Nebraska 1 year ago on Mon, Jun 29, 2020 12:01 PM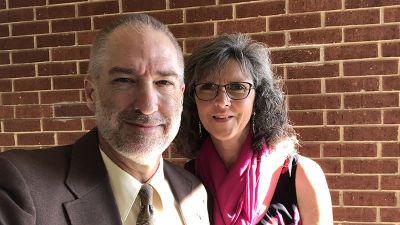 Tom '85 and Keven (Nienhueser) Wrege '85 both serve Zion Lutheran School in Georgetown, Texas, where Tom is the principal and Keven teaches pre-kindergarten.
Tom Wrege '85 and Keven (Nienhueser) Wrege '85 both serve Zion Lutheran School in Georgetown, Texas. Tom is the principal, and Keven teaches pre-kindergarten. Becke Smith, a Concordia regional ambassador, interviewed Wrege about his experience leading the school through the transition to online learning.
Shortly after students left the building on March 13 for their one-week spring break, Wrege and the administration received word that spring break would be extended for two weeks.
"We began to prepare our thoughts and actions towards making sure we had a plan in place that would continue the education of our students," Wrege said. "Our goal was to get this working quickly so we could continue both the education and spirituality and also support our teachers and families."
Becke Smith: How has your life changed since this pandemic began?
Tom Wrege: I have seen how the greatest challenge in my career has equipped me even further to serve in the Kingdom. I better understand what grace truly means. I am filled with gratitude for my team, an incredible group of Christian friends and colleagues that show support for each other, for the students and families in their care, and for the mission of our church and school.
Smith: How have you seen God at work through this in your home, your job, your schools, your community?
Wrege: He has worked through His people; through relationships; through full reliance on Him; through a time of pause and reflection; He has given us insight we did not know was possible; He has given us a vision for the future that is much different than we may have imagined; we better understand His provision to us.
Smith: How did your Concordia education prepare you for a time like this?
Wrege: There is no other school like Concordia. Christ was central in every part of my education. I met my wife there (she is currently a teacher on my staff)! Our daughter will be a senior there this fall, in another year to be a middle school teacher in our Lutheran schools! Much of the preparation was the immersion in God's Word through the daily chapel, our amazing professors, and the practical application of all we learned – out in the real world. And now it is connections like this one that are truly meaningful.