Three residence halls renamed
Published by Concordia University, Nebraska 2 years ago on Fri, Mar 12, 2021 11:15 AM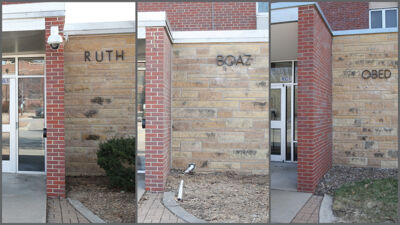 Concordia University, Nebraska's Ruth A, B and C residence halls have been renamed to Ruth, Boaz and Obed, respectively. 
The University's board of regents approved the name changes at its October 2020 meeting, after students Joshua Marlatt and Trenton Bruntz started an online petition that was supported by the student senate and presented to the regents for approval.
"These familial names will connect the halls, while also giving them a sense of independence," the petition read. "We feel that this name change will benefit the university as a whole for years to come."
In the Bible, Boaz was Ruth's husband, and Obed was the couple's son. Obed later became the father of Jesse, the father of King David, in the line of Jesus Christ. 
"I am proud of Concordia's students for their initiative in bringing this biblical naming proposal to the Regents," Rev. Russ Sommerfeld, interim president, said. "I am also pleased that Concordia has a governing board that is responsive to students."
New signage was added to the buildings during spring break.