Three alums earn top honors from LEA
Published by Concordia University, Nebraska 9 months ago on Tue, Mar 31, 2020 10:22 AM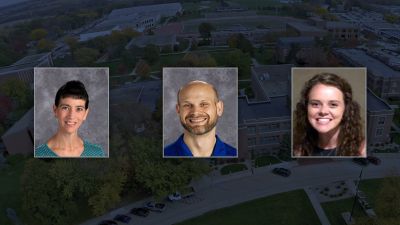 Three Concordia alums recently received honors from the Lutheran Education Association (LEA), as announced in February. Honorees were selected by a 2020 LEA Awards Task Force established for each award.
Dian Schlichtmann '90
Distinguished Lutheran Early Childhood Teacher

Dian Schlichtmann, a 1990 Concordia graduate, was selected to receive LEA's 2020 Distinguished Lutheran Early Childhood Teacher Award.
Since 2008, Schlichtmann has taught at Immanuel Lutheran School in Wisconsin Rapids, Wisconsin. During her 29-year ministry, she has also taught in Wausau, Wisconsin., and Leavenworth, Kansas.
"Dian is a very organized and meticulous person who continues to grow in her knowledge in all areas for the development of children," Brian Betts, the school's principal, said. "She spends countless hours pouring her life into making an eternal impact on the students and families in her care."
In addition to her teaching duties, Schlichtmann has also planned the school's chapel themes for this year, and has worked to bring the Wisconsin Model Early Learning Standards to the classroom, Betts said.
"Dian continues to educate the family that the child is the most precious gift from God," he said. "She plans different activities to involve the family at school and to build relationships."

Nathan Domsch CO '04 GR '08
Distinguished Lutheran Elementary Administrator
Nathan Domsch was selected to receive LEA's 2020 Distinguished Lutheran Elementary Administrator Award. Domsch has served as principal at Concordia Lutheran Schools of Omaha since 2015. Previously, he served as a teacher and principal at Immanuel Lutheran School in Olivette, Missouri.
Domsch earned a B.S. in elementary education and M.Ed. in elementary administration from Concordia University, Nebraska in 2004 and 2008, respectively. His joys in ministry, he said, are the relationships with students, parents and teachers.
"I love greeting the students as they arrive, spending time with them in the classroom and on the playground, sharing Jesus with them and witnessing their growth," he said. "I also love developing relationships with parents and partnering with them to solve problems and celebrate victories in working with their children."
A colleague praised Domsch's problem-solving ability in their nomination.
"One of Nathan's greatest skill is that of a problem solver," the colleague wrote. "When there is a concern, frustration, or issue, Nathan immediately begins to develop possible solutions. Because he is innovative, he can often provide new and unique ideas that fit the needs of each situation. His calm leadership puts teachers, students and parents at ease. Nathan is also incredibly supportive of the teachers on our staff. He is always available to talk with us and to support us in our classrooms. Nathan holds us to high standards, and he encourages us to try new things."

Allison Seeliger '18
Outstanding New Lutheran Middle School Teacher
Allison Seeliger, a 2018 Concordia graduate, was selected to receive LEA's 2020 Outstanding New Lutheran Middle School Teacher award. Seeliger is in her second year of teaching at St. Paul Lutheran School in Boca Raton, Florida.
At St. Paul, Seeliger teaches seventh-grade classes, she is the yearbook administrator and the middle school spring musical assistant. Seeliger's classroom management is always directed in a positive Christian loving way, a parent said in their nomination.
"She truly knows how to bring out the best in her students," the parent said. "I have witnessed that Allison is strongly committed to serving Jesus in her classroom, and after-school events. Her Lutheran Christian faith shines very bright not only in her religion class, but also in all the classes she teaches."
Seeliger is a role model who leads by example, Jeff Potter, the school's assistant principal, said in his nomination.
"During her first year and a half in the ministry, she demonstrated the qualities of a teacher well-established in their career and continues to grow in those abilities," Potter wrote. "Allison is amazing at planning and executing her lessons while maintaining an excellent classroom environment. She is able to connect with each student on an academic, social and spiritual level."