Theatre students present 2021 One-Act Play Festival
Published by Logan Tuttle 5 months ago on Fri, Apr 16, 2021 1:55 PM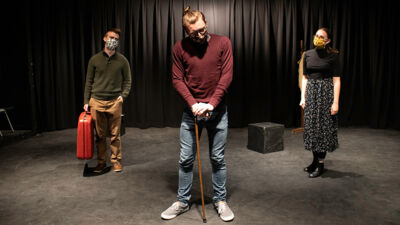 Brett Mueller, Dane Wolfgram and Allison Story perform "Snapshots" by Jean Klein, directed by Josie O'Laughlin, as part of Concordia Theatre's One-Act Play Festival April 8-10.
The Concordia theatre department performed three student-directed performances each night April 8-10 in the Black Box Studio Theater in the Music Building's basement.
"The students have been excited about being back in the same room to engage with each other through theatre, and to see and hear audiences respond to their performances, which energizes them to do their best," Bryan Moore, professor of communication and theatre arts, said. "My goal has been to remind them to be safe while rehearsing, as well as during the rest of their days, as we cannot take the pandemic's impacts for granted. They know if anyone gets sick, we risk not being able to perform as planned."
The plays included "Snapshots" by Jean Klein, directed by Josie O'Laughlin, a junior from Winona, Minnesota; "I Dream Before I Take The Stand" by Arlene Hutton, directed by Miriam Wolf, a junior from St. Louis, Missouri; and "The Chameleon Princess" by Thomas Hischak, directed by Hannah Mundt, a junior from Lee's Summit, Missouri.
"When it comes to theatre, there's nothing like a live audience," O'Laughlin, a first-time director, said. "To experience the emotions and reactions firsthand as you relay the lives, feelings and inner emotions of a character outside of yourself is both humbling and exhilarating."
O'Laughlin said she chose to direct "Snapshots" because she believed many people could relate to its portrayal of simplicity. The play illustrates how moments that are seemingly small and insignificant can have a much larger impact, she said.
"I also fell in love with the story it conveys to its audience," she said, "showing snapshots of memories found within the confines of two individual's lives. I believe that this one act in particular portrays beauty in the simple moments that make our relationships. It's not in the life changing events, but the subtle words and looks."
Wolf also directed for the first time during the festival. The play she directed, "I Dream Before I Take The Stand," portrays a woman being cross examined during her rape trial, as the defense lawyer attempts to distort the situation and make her appear as a seductress, rather than a victim. She said she chose the play because she wanted to raise awareness for sexual assault and show how counter-arguments look, and she believes the show does a good job of portraying what it feels like in showing how survivors may be questioned about their experiences.
"Watching things like this on a screen takes away some of the power," Wolf said. "On stage, there's no option to look away or press mute. You are almost in the courtroom yourself, instead of in the safety and comfort of your own home or dorm."
The festival's third first-time director, Mundt, said she chose "The Chameleon Princess," about a princess with special abilities who runs away from home to try and find herself, because it contains important ideas about knowledge for its own sake and the importance of self-identity, while showing those ideas in a lighthearted, comedic way.
"I wanted to direct something light and fun for my first time directing," she said. "I also enjoyed that the script had a larger cast, and it was fun to direct with a big group with so many different skills and ideas to add to the piece."
The three directors said they were thankful for the talented actors who shared their gifts in each of the three plays. Additionally, they each said they were grateful for the ability to present live, in-person performances.
"The whole experience was a great learning opportunity and the cast, crew and class were all so much fun to work with," Mundt said.
Cast and crew participating in the 2021 One Act Play Festival include (listed by play):
"Snapshots" by Jean Klein
Director: Josie O'Laughlin, junior, Winona, Minn.
Assistant Director: Mikayla Lowe, senior, Atchison, Kan.
Sy: Dane Wolfgram, senior, Bismark, N.D.
Maggie: Allison Story, senior, Clay Center, Neb.
A Man: Brett Mueller, senior, Concordia, Mo.
"I Dream Before I Take The Stand" by Arlene Hutton
Director: Miriam Wolf, junior, St. Louis, Mo.
Assistant Director and Dramaturg: Hannah Watt, senior, Fairmont, Minn.
She: Leigha Meyer, sophomore, Fenton, Mo.
He: Caleb Jalas, sophomore, Deshler, Neb.
"The Chameleon Princess" by Thomas Hischak
Director: Hannah Mundt, junior, Lee's Summit, Mo.
Assistant Director: Faith Jonas, sophomore, St. Louis, Mo.
Princess Zena: Abi DeLoach, senior, Kearney, Neb.
Queen: Haley Compton, sophomore, Papillion, Neb.
Princess Pauline: Mary Pennekamp, freshman, Ft. Wayne, Ind.
Princess Ursula: Grace Pennekamp, sophomore, Ft. Wayne, Ind.
Karla: Elizabeth Leapley, sophomore, New Berlin, Wis.
Captain of the Guard: Marc Freiberg II, sophomore, Racine, Minn.
Woodcutter/Prince/Farmer: Daniel Oberdieck, freshman, Lanesville, Ind.
Seamstress One: Morgan Bowman, sophomore, South Sioux City, Neb.
Seamstress Two: Allison Story
Cook: Ami Pritchett, freshman, Denver, Colo.
Wife: Jenna Potratz, freshman, Seward, Neb.
Scholar: Brett Mueller