Theatre and speech workshop enables collaboration between Concordia and high school students
Published by Concordia University, Nebraska 6 years ago on Fri, Sep 25, 2015 11:57 AM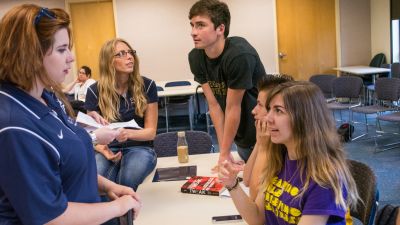 Photo Courtesy Andrew Magnus, Concordia seniorConcordia students Marol Feickert (left) and Melonie Kotschwar (second from left) mentor high school students at Concordia's theatre and speech workshop on Sept. 12, 2015
Concordia held a speech and theatre workshop Sept. 12, 2015, to help high school students develop their skills in both areas.
"We focused on both lecture and practical components, with the students driving much of the content," said Andrew Moffitt, director of forensics at Concordia. "The high school students got a valuable chance to work on events outside the normal classroom environment, along with additional coaching and mentoring resources."
During the workshop, students were able to develop new skills and further their current skills by participating in activities such as improvisation, characterization, vocal and physical techniques, lecture-based lessons and discussions about strategies for upcoming theatre and speech events.
Concordia students involved in speech and theatre assisted with this event by participating in various activities with the high school students.
Moffitt and Concordia's Associate Professor of Communication and Theatre Arts Bryan Moore oversaw the event.
Concordia students who participated in the event include:
Ben Leeper, junior, Thornton, Colo., theatre
Anne Jesgarz, freshman, Shelbyville, Ill., theatre
Rebekah Rusert, freshman, Truman, Minn., theatre
Cadence Klemp, sophomore, Winona, Minn., theatre
Andrew Crist, junior, Springfield, Mo., theatre
Sean Carpenter, senior, Hollis, N.H., speech
Marol Feickert, sophomore, Lawrenceville, N.J., theatre and speech
Ann Spilker, sophomore, Ashland, Neb., speech
Soren Doll, freshman, Creighton, Neb., speech
Hannah Sugita, freshman, Grand Island, Neb., speech
Ethan Kesar, senior, Omaha, Neb., theatre
Abigail Schroeder, freshman, Schuyler, Neb., theatre
Jordan Schut, junior, Scribner, Neb., speech
Musa Fofana, freshman, Seward, Neb., speech
Kristin Jindra, junior, Seward, Neb., speech
Emily Kollbaum, junior, Seward, Neb., theatre and speech
Melonie Kotschwar, senior, Seward, Neb., speech
Paul Nelson, junior, Norfolk, Neb., theatre
Timothy Curtis, freshman, Clarksville, Tenn., speech
Taylor Rankel, sophomore, Spring, Texas, theatre
Abigail Wisniewski, freshman, Withee, Wis., speech