Ted Mallory '93 recognized for art education leadership
Published by Logan Tuttle 1 year ago on Fri, May 21, 2021 3:42 PM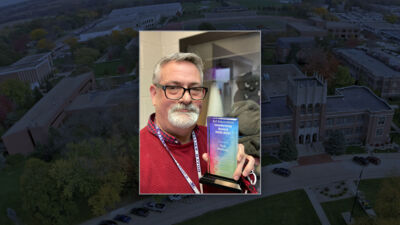 Ted Mallory '93, a middle/high school art teacher at Boyer Valley Community School in Dunlap, Iowa, was recently received the Art Education Leadership Award by Artsonia for his outstanding leadership and innovation within the art education community.
While Ted Mallory was a student at Concordia, Professor Reinhold Marxhausen told his class that "Art is for everybody, not just for kids who are going to become professional artists."
That quote has stuck with Mallory, a 1993 graduate, for the last three decades, and has served as a major influence as he teaches art to middle and high school students at Boyer Valley Community School in Dunlap, Iowa. Mallory has taught at Boyer Valley since 2000, after starting his career at Los Angeles Lutheran Junior/Senior High School in Sylmar, California, and Trinity Lutheran Middle School in Reseda, California.
Recently, Mallory was awarded the Art Education Leadership Award by Artsonia, an online art-sharing community where teachers and students publish more than 8 million pieces of artwork annually, in addition to providing art educators with lesson plan resources and a fundraising arm that raises more than $1 million for school art programs each year. The award is presented to 15 visionaries who are nominated by their peers for their demonstration of outstanding leadership and innovation within the art education community on Artsonia.
"I'm honored, but humbled, too, to be recognized in this way," Mallory says. "I think it's more about my students than about me. To be honest, when I first started using Artsonia years ago, it was mostly so that I could grade artwork at home on weekends without having to haul it back and forth."
Artsonia is the self-proclaimed largest student art museum in the world, featuring more than 84.6 million published pieces of art. Students are provided online portfolios, making it easy for them to share with instructors, classmates and their families. The ability to provide a space for students to share their work is important, Mallory says, because it removes barriers for parents to see the work their student-artists are creating.
"Everyone goes to football, volleyball and basketball games in Iowa," he says, "but very few people attend the open houses for school Conference Art Shows. Parents attend not just music concerts and plays, but often speech and music competitions, too, but they don't all take the time to browse the art display cases during parent/teacher conferences."
By utilizing the online portfolio, Mallory says he encourages his students to use it to gauge how their art has improved over the years and as seniors to showcase their work when applying to college and for scholarships. The platform has also made it easier for Mallory to lead reflections and discussions within his classes.
"They're able to use both sides of their brain," Mallory says, "and as juniors, they'll be able to look back and see how much they've improved as writers since sixth grade, too, not just as artists."
Throughout his experience, Mallory says he's come to realize that art helps one think, and that it's not solely about enrichment. Over the last few years, he's implemented teaching sketch noting, visual literacy and art journaling, to help his students find new ways to process information.
"Even if you're more interested in other subjects, even just doodling, let alone graphic organizing and annotated sketches and diagrams, art helps you process," he says. "It improves comprehension and memory retention. I am not just inspired, but absolutely driven to help show kids how to use art in all their classes and any aspect of their life if they'll let me."
When it comes to seeing his students succeed, Mallory says it's a combination of seeing them earn accolades in the art world, but almost more importantly, seeing them use art as a way to help them better their lives.
"I've had a few students go on to do great things with their art, crafts, photography and design, and I've even had a former student's sculptures installed on campus, and they make me incredibly proud," he says. "But it's helping students see that they can use art to calm down, or to work through personal issues, or to help them take notes and study or plan to find solutions—those are the things that I'm most passionate about."