"Tartuffe" examines religious hypocrisy
Published by Concordia University, Nebraska 10 years ago on Tue, Feb 15, 2011 5:29 PM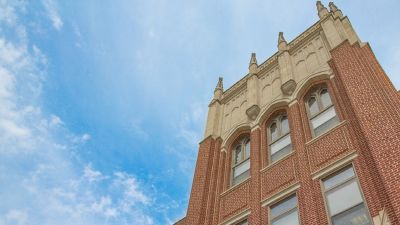 Piety and religious hypocrisy were targeted on stage during Concordia's production of Molière's Tartuffe, the story of a holy man who is not exactly what he seems. Tartuffe was performed Friday and Saturday, Feb. 25 and 26 and Sunday, Feb. 27 in the studio theatre in the basement of the Music Center.
"Molière is a playwright I wanted to produce at some point in my career," said director Bryan Moore, assistant professor of communication and theater art. "Tartuffe presents topics which are challenging but especially important to explore within our Christian community."
The play, deemed controversial when it was created in the late 1660s, presented several challenges for the cast, including a script written in verse. "The script's verse translation puts the dialogue in rhyming couplets," explained Moore. "The actors had to determine how to present the dialogue without making the lines distractingly singsongy, while still utilizing the rhythm of the language when desired."
In addition to offering challenges for the cast, Tartuffe provided a learning opportunity for everyone involved in the show, including the audience.
"Molière uses satire to teach a lesson, not just to criticize or demean a certain group," said Moore. "Tartuffe presents the extremities and potential misconceptions of religious piety and hypocrisy. When we look closer, the message itself asks us to consider not only how we observe and critique others about their faith, but also how we ourselves behave as representatives of our faith."
Tartuffe cast and crew:
Elmire: Dottie Avery, Senior, San Antonio, Texas
Cleante: Tyler Beltz, Senior, Norfolk, Neb.
Monsieur Loyal: Beth Brackmann, Junior, Parker, Colo.
Dorine: Sarah Dinger, Junior, Pocatello, Idaho
Orgon: Ryan Duerr, Junior, Warren, Mich.
Madame Pernelle: Sara Holle, Senior, Marysville, Kan.
Flipote and Laurante: Mary Krc, Junior, Frederick, Md.
Tartuffe: Henning Peterson IV, Junior, Parker, Colo.
Mariane: Brittany Sawyer, Senior, Pleasant Dale, Neb.
Valere: Adam Strohscheim, Junior, Annandale, Minn.
Damis: Rory Wendelin, Junior, Oberlin, Kan.
Police Officer: Alicia Wosepka, Junior, Ackley, Iowa
Assistant director: Emilie Schultz, Senior, Houston, Texas
Stage manager: Bryce Tellmann, Senior, New Salem, N.D.
Assistant stage manager: Rachel Davis, Freshman, Mount Dora, Fla.
Assistant stage manager: Maryrose Langoehr, Sophomore, Milwaukee, Wis.
Research assistant: Abbie Kuehn, Senior, Lincoln, Neb.
Costume designer: Katrina Schulteis, Junior, Greenfield, Iowa