Theatre Students Present 2022 One-Act Play Festival
Published by Brooke Lange 9 months ago on Fri, Apr 8, 2022 2:56 PM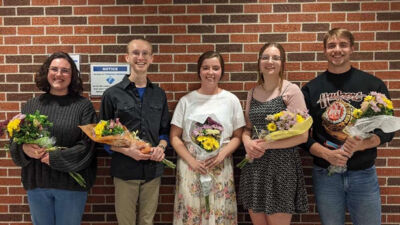 Bekah Guilford, Caleb Jalas, Rosie Grothaus, and Daniel Warneke (sides) performed "Left to Right" by Stephen Dietz, directed by Haleigh Fitzsimmons (center) as part of Concordia's One Act Festival March 31- April 2
The Concordia theatre department performed four student-directed performances each night from March 31 to April 2 in the Thom Auditorium for the annual One-Act Play Festival.
The festival is the practical component of the Communication Theatre Arts play production class. The class takes the students through the process of analyzing their play from multiple perspectives, including design, technical and acting choices, so they are prepared to work with their peers to produce a complete performance.
This year's plays included Double Date by J. Holtham, directed by Grace Babbitts, a junior from Shohola, Pennsylvania; Action News: Now with 10% More Action by Jonathan Rand, directed by Adam Prince, a sophomore from O'Fallon, Missouri; Left to Right by Stephen Dietz, directed by Haleigh Fitzsimmons, a senior from Lincoln, Nebraska; and An Empress, A Faun, and...Olive Loaf? by Em Frappier, directed by Allison Story, a senior from Clay Center, Nebraska.
This year's festival found itself with its own unique set of challenges. The festival was hosted in Thom Auditorium, instead of the usual Black Box Theatre. Bryan Moore, Professor of English, Communication and Theatre Arts, acknowledged these differences. "The main challenges were scheduling rehearsals in a multi-purpose space used by many departments and groups, as well as the limited technical options compared to a traditional theatre space. That said, the students were committed to present quality shows, and they made the space work for each of their show's unique needs."
One of the directors who had to work extra hard to make the space work was senior, Haleigh Fitzsimmons. "Initially, I wanted to perform a simple love story. Then, I chose the opposite." But through the work of her cast and crew, she was able to present a story that made the audience think. "I liked how the story makes the audience question morality, and what happens when love both conquers and destroys all. Watching it in its entirety made the whole process worth it."
Adam Prince, another first-time director, took a different approach when it came to directing his play. His play was a comedy. "I chose the play I did because I know Concordia has gone through a lot recently and needed a relief from the seriousness of the everyday." As Prince directed, he learned and grew significantly. "Even though the process was occasionally difficult, ultimately, it was worth the struggle. It blew my mind to see the characters pop off the stage."
Senior and first-time director Allison Story similarly appreciated seeing theatrical performances in a new light. "I've been doing theatre since I was a little girl and being on the directing end instead of the acting end was a new and exciting experience. Watching the world with all the characters and their quirks come to life is such a cool thing."
Grace Babbitts, another first-time director, was also looking to present a new perspective. "I chose the play I did because we all have faced certain points in our lives where we regret something. What's more is that we don't often get to see that regret from a male perspective. My play did just that. Throughout the process, it was incredible working on this many parts of the play and finding out how it all fit together."
"Overall, I am proud of the way this year's directors worked through the challenges of this semester, and how they worked together and supported each other through this process," Moore commented.
Cast and Crew participating in the 2022 One Act Play Festival include (listed by play):
Double Date by J. Holtham
Director: Grace Babbitts, junior, Shohola, Penn.
Assistant Director: Alleah Struble, junior, Heber Springs, Ark.
Nick: Colin Thuringer, freshman, Sioux Falls, S.D.
Irene: Elizabeth Ascher, freshman, Sioux Falls, S.D.
Pennie: Stephanie Mashuga, sophomore, Gibbon, Minn.
Action News: Now with 10% More Action by Jonathan Rand
Director: Adam Prince, sophomore, O'Fallon, Mo.
Assistant Director: Caleb Jalas, sophomore, Deshler, Neb.
Babs: Harley Storie, freshman, Valley Park, Mo.
Jim: Luke Lang, junior, Seward, Neb.
Various Roles: Faith Jonas, junior, St. Lous, Mo.
Leigha Meyer, junior, Fenton, Mo.
Marc Freiberg II, junior, Seward, Neb.
Left to Right by Stephen Dietz
Director: Haleigh Fitzsimmons, senior, Lincoln, Neb.
Assistant Director: Daniel Warneke, junior, Nebraska City, Neb.
Angie: Rose Grothaus, senior, Lincoln, Neb.
Dee: Bekah Guilford, senior, Lincoln, Neb.
Ron: Caleb Jalas
Scott: Daniel Warneke
An Empress, a Faun, and...Olive Loaf?
Director: Allison Story, senior, Clay Center, Neb.
Assistant Director: Hannah Mundt, junior, Lee's Summit, Neb.
Heather: Faith Jonas
Becca: Annah Heck, junior, Coon Rapids, Iowa
Rhea: Michelle Hernandez, sophomore, Columbus, Neb.
Tia: Morgan Bowman, junior, South Sioux City, Neb.
Hanselhoof: Marc Freiberg
Wilson: Christopher Kandt: post-baccalaureate, Seward, Neb.
Raskillian: Micah Henschen, sophomore, Bancroft, Neb.
Empress: Kenna Miller, senior, York, Neb.
Mother/Red Prince: Haley Compton, junior, Papillion, Neb.
May: Ami Pritchett, sophomore, Denver, Colo.
Perry Diddle: Colin Thuringer
​​​​​