Students grow business skills through Concordia Catalyst Competition
Published by Logan Tuttle 1 year ago on Mon, Feb 1, 2021 11:42 AM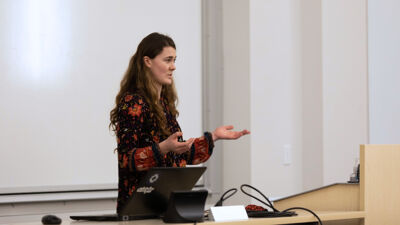 Allison Echtenkamp, a senior from Wayne, Nebraska, presents her team's plan for Bulldog Mushrooms during the Concordia Catalyst Competition Jan. 26. Echtenkamp and her teammate Alex Vieselmeyer, a freshman from Amherst, Colorado, won the competition.
A group of Concordia agriculture students recently competed in a business pitch competition, testing their entrepreneurship skills as they presented their ideas for creating potential businesses.
The Concordia Catalyst Competition was organized by Dr. Dennis Brink, professor of agricultural science, Brendan Cremin '18, an ag program graduate assistant, Jonathan Jank CO '08 GR '11, president and CEO of Seward County Chamber and Development Partnership and Brian Larrington, a Concordia supporter, as a way to help students build their entrepreneurship skills and provide them meaningful feedback for their business plans that could eventually come to fruition. Teams were judged by a panel consisting of Concordia alumni and local business leaders.
"Those involved in agriculture thrive on entrepreneurship, adding value to whatever role they take in ag," Brink said. "It's important that we provide our students with opportunities to learn these skills and receive valuable feedback so they eventually put these ideas into action."
Taking home first-place was the team of Allison Echtenkamp, a senior from Wayne, Nebraska, and Alex Vieselmeyer, a freshman from Amherst, Colorado, for their plan for Bulldog Mushrooms. The team's proposed business was focused on growing specialized mushrooms including lion's mane, button, oyster, portabella and reishi—grown from grain sorghum spawn for culinary purposes. The mushrooms would be grown in multiple growth chambers that could easily fit in an indoor facility in Lincoln, providing a central location for distribution. The products would be branded as GMO-free and certified organic, both of which appeal highly to the business's target demographics.
"If there's an industry with a lot of innovation, it's agriculture," Larrington said. "If someone wants to go either into ag business, or more of a corporate setting, they'll have to find new ways of doing things. Even within large businesses, that's a vital component to success."
In the first year of the competition, the organizers raised nearly $2,000 worth of seed money and prizes, Larrington said, and there are plans to open the competition to a larger audience in the years to come. Students would also have the option to refine their plan from this year and compete in the following years.
"College doesn't always give you all the answers in life, but it teaches you how to find them," Larrington said. "What we're trying to do is get students to think like entrepreneurs, to find solutions, to think outside the box and prepare them for the future. With this event, students have the opportunity to get feedback for four years on their business plan and then graduate with a plan in hand and start their business."
If Concordia alumni or business leaders are interested in volunteering time or resources to next year's competition, please contact Jonathan Jank or Dennis Brink.

Additional teams pitching their business plans included:

Broken Horn Bison, second place
Gabe Ellis, sophomore, Kingsdown, Kan.
Kellie Rhodes, freshman, Mullinville, Kan.

Broken-Horn Bison will generate revenue through specialty meat sales and through bison cattle sales. The goal is to sell high-quality bison meat that is non-GMO. Our advantage is feeding the bison in the feedlot grain sorghum. Grain sorghum is not genetically modified; therefore, the selling point would be grass-raised bison with a short grain sorghum feeding period to add flavor to the bison meat. The result is a flavorful healthy product that has never consumed a GMO. Broken Horn Bison will take pride in raising our animals and providing for their customers. Broken Horn Bison believes that if their products are of premium quality, they will keep customers that come back year after year.
KC Feed, third place
Cade Lutz, freshman, Benkelman, Neb.
Karsten McCarter, freshman, Elm Creek, Neb.

KC Fish Food produces high-quality fish food using grain sorghum as the primary ingredient. KC Feed partners with local farmers to bring in quality non-GMO grain sorghum. As a company, we target local fish markets in Nebraska such as fish hatcheries. KC Feed values a personal relationship with customers and uses personal meetings to build an active relationship. The company values customer demands and wants to work with customers who have unique operations and require technical support. KC Food is proud to produce economical, nutritious, locally produced food that fish need.
Bill's Bouquets and Bees, fourth place
Wyatt Ehlers, sophomore, Waco, Neb.
Carson Rathje, freshman, Rising City, Neb.

Bill's Bouquets and Bees business plan is to grow native Nebraska flowers for homemade flower bouquets to sell at local events. Bill's Bouquets and Bees plans to grow five varieties of Nebraska friendly flowers that are also great pollinators for the bees to help them grow and prosper. The plan is to try to spread our business via the word of mouth with participation in local events. Bill's Bouquets and Bees owners believe there is a great opportunity for the growth of a personal and friendly approach to bouquets and bees.