Students Debut Works at Spring 2023 Composers Recital
Published by Brooke Lange 5 months ago on Tue, Apr 4, 2023 10:26 AM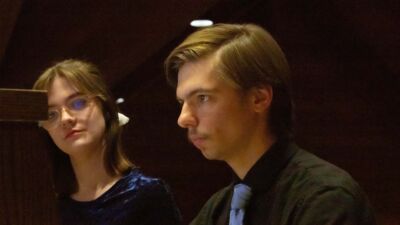 Ethan Gillespie of Random Lake, Wis. performs his composition of "Tocatta on a Chant Tune."
Concordia University, Nebraska held its Spring Composer's Recital on Tuesday, March 24 at St. John Lutheran Church in Seward, Nebraska.
Included in the program were premiere performances of pieces written by five Concordia student composers, comprised of a variety of music written for vocals, organ, winds, and piano.
John Kosch, current professor of composition, reflects on the variety students can produce when they have the opportunity to create. Kosch stated, "All the pieces were very different. Our selections included a brass chorale, a recomposition of the famous hymn from "Titanic," a virtuosic organ solo, a 9-minute choral epic on the wonders of nature, and a humorous piece for trombone about climbing a tree (and occasionally falling). The diversity of our program is a testament to our students' willingness to explore different methods of connecting with audiences through music. It's invigorating to see our students try new things and develop new skills!"
The music is listed by program order, with the composer first, followed by the performances
"Tocatta on a Chant Tune"
Composed and performed by Ethan Gillespie, sophomore, Random Lake, Wis., organ
"Nearer My God to Thee"
Composed by Gillian Mettenbrink, senior, Seward, Neb.
Jenny Horne, senior, Seward, Neb., soprano
Kirsten Horne, sophomore, Seward, Neb., soprano
Gabbi Krutsinger, junior, Imperial, Neb., alto
Gillian Mettenbrink, alto
Isaac Weander, junior, Norfolk, Neb., tenor
Caleb Zeckzer, junior, New Haven, Ind., tenor
Joshua Jurchen, freshman, Seward, Neb., bass
Calvin Rohde, junior, Reed City, Mich., bass
Nathan Pennington, senior, Lincoln, Neb., bass
"Chorale in F Minor"
Composed by Nathaniel Mars, senior, Seward, Neb.
Samuel Dunbar, sophomore, Lambertville, N.J., trumpet
Matthew Feusse, junior, Clearwater, Neb., trumpet
Colin Thuringer, sophomore, Sioux Falls, S.D., trombone
"To Climb a Tree"
Composed by Nathan Pennington
Jackson Munter, sophomore, Ithaca, Neb., trombone
Elizabeth Grimpo, piano
"Let the Wind Lead"
Composed by Ryan Edinger, sophomore, Wentzville, Mo.
Logan Edinger, sophomore, Wentzville, Mo., soprano
Sadie Henson, sophomore, Herrin, Ill., alto
Logan Walgate, sophomore, St. Charles, Mo., tenor
Ethan Gillespie, bass
Emilee Price, sophomore, Columbus, Neb., flute
Ryan Edinger, piano