Students debut works at Fall 2021 Composers Recital
Published by Logan Tuttle 1 year ago on Thu, Nov 11, 2021 3:52 PM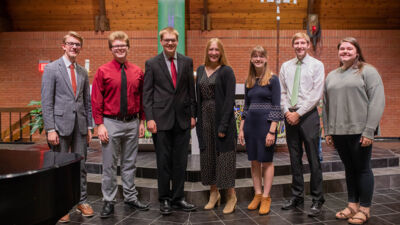 Student composers who composed pieces for the Fall 2021 Composers Recital are, from left: Nathan Pennington, Garret Drews, Thomas Schulteis, Gillian Mettenbrink, Katie Benkendorf, Calvin Rohde and Bethany Zeckzer.
Concordia University, Nebraska held its Fall Composers Recital on Tuesday, Nov. 9 at St. John Lutheran Church in Seward.
Included in the program were premiere performances of pieces written by seven Concordia student composers, comprising a variety of music written for vocals, piano, winds, strings and drums.
"It was an excellent opportunity for our student composers to showcase their talents," Dr. Jeffrey Blersch, professor of music, said. "It is rare to see that number of premiere performances in one recital, and we were excited for our students to share their talents with the community."
Watch the performance, recorded by St. John Lutheran Church
The music is listed by program order, with the composer first, followed by the performers:
"I. Adagio" from Sonata in C Major
Composed and performed by Calvin Rohde, sophomore, Reed City, Mich.
"Joy in Affliction (Psalm 27)
Composed by Thomas Schulteis, sophomore, Parker, Colo.
Katie Benkendorf, junior, Uniontown, Mo., soprano
Kathryn Castens, junior, New Haven, Ind., soprano
Renata Peperkorn, junior, Rocklin, Calif., soprano
Nathan Pennington, junior, Lincoln, Neb., baritone
Benjamin Brenckle, sophomore, Kewaskum, Wis., baritone
Calvin Rohde, baritone
"Psalm 150"
Composed by Katie Benkendorf
Jill Bultemeier, junior, Texarkana, Texas, soprano
Renata Peperkorn, piano
Rebekah Eatherton, senior, Sheboygan, Wis., flute
"Kyrie"
Composed by Gillian Mettenbrink, junior, Seward, Neb.
Conducted by Bethany Zeckzer, senior, New Haven, Ind.
Hannah Eatherton, senior, Sheboygan, Wis., soprano
Rebekah Eatherton, soprano
Hannah Cmeyla, junior, Bay City, Mich., alto
Jacee Pfeifer, senior, Holdrege, Neb., alto
Isaac Weander, junior, Norfolk, Neb., tenor
Caleb Zeckzer, sophomore, New Haven, Ind., tenor
Calvin Rohde, bass
Nathan Pennington, bass
"The Second Coming"
Composed by Nathan Pennington
Rachel Fisher, sophomore, Lincoln, Neb. soprano and solo
Bethany Zeckzer, alto
Trent Bruntz, senior, Hastings, Neb., tenor
James Gramzow, senior, Royal Oak, Mich., baritone
Nathan Pennington, piano
"This Family"
Composed by Garret Drews, senior, Fremont, Neb.
Garret Drews, tenor
Bethany Zeckzer, piano
Rosie Grothaus, senior, Lincoln, Neb., cello
"A Melody for Friends: For the boys"
Composed by Bethany Zeckzer
Bethany Zeckzer, alto saxophone
Isaac Weander, alto saxophone
Daniel Oberdieck, sophomore, Elizabeth, Ind., baritone
Ben Toenjes, junior, Bakersfield, Calif., tuba