Student Life donates 75 mattresses to nonprofits
Published by Concordia University, Nebraska 10 months ago on Tue, Jul 21, 2020 2:41 PM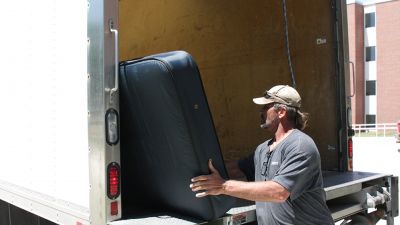 A team from People's City Mission in Lincoln loaded 55 used mattresses from Esther Hall on July 13 that will be used in the mission's family shelter.
Earlier this month, Concordia donated 75 used mattresses to nonprofit organizations in Lincoln.
People's City Mission received 55 mattresses, that will be used at its family shelter and Catholic Social Services received 20 mattresses.
"This means a lot to us," Clint Presnell, People's City Mission's facilities director, said. "We have a 300-bed shelter and I can't think of a night that one of those beds are open. Every day, mattresses and washing machines, the types of things others may take for granted in their home, we burn through pretty fast."
Mattresses used in dorm rooms are made differently than those used in homes—the seams are reinforced and they are water-resistant—making them easier to clean and they typically last much longer, Presnell said. Those qualities, Presnell said, make these types of mattresses a great fit to use within the People's City Mission's family shelter, which primarily serves women and children.
The more than 900 mattresses on Concordia's campus are kept on a 10-year rotation, Gene Brooks CO '91 GR '03, vice president for student affairs and athletics, said. Each summer, the University replaces about 100 mattresses—that are still in good shape—and donates them to organizations in need.
"It's great to know these mattresses are being put to good use and giving someone a bed to sleep in that otherwise they may not have," Brooks said.
Since 2011, Dr. Kathy Miller, professor of sociology—with her church Faith Lutheran in Seward—has served as the liaison between Concordia's student life office and the groups receiving the annual donations. In the past, donations have been provided to nonprofits including People's City Mission, Catholic Social Services, Bridges to Hope and Re-Member, located on the Pine Ridge Reservation in South Dakota.
"Donating mattresses to these organizations prevents them from going into landfills and helps nonprofits who help people in need, so they can really use them," Miller said. "It helps the environment, helps our community and neighbors, so everyone benefits.
"I'm happy to do it so others can benefit from these mattresses. I think it is important that we involve multiple organizations and people to help. It also makes others aware of needs and requires the help and coordination of many people."