Speech team qualifies 10 for nationals, reflects on season success
Published by Concordia University, Nebraska 3 years ago on Tue, Mar 31, 2020 9:56 AM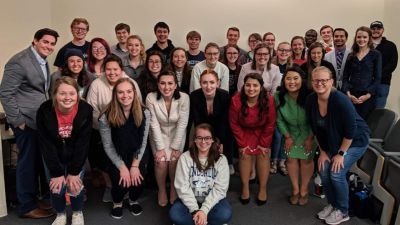 Ten members of Concordia's speech team qualified for the national tournament, which was set to take place April 4-6 in Santa Ana, California.
For the second year in a row, the Concordia speech team qualified 10 students for the American Forensics Association National Individual Events Tournament (AFA-NIET), which was set to take place April 4-6 in Santa Ana, California.
The impact from the COVID-19 pandemic across the country has forced many universities to suspend face-to-face instruction and cancel events for the rest of the semester, including this year's national tournament. Although they weren't able to participate in this year's national tournament, the team had a lot to celebrate from this season.
"I realize that despite the loss of AFA, which was my 'reward', I was still able to contribute to the speech community and learn something about myself, namely, humility," said junior Jacob Garrison, who qualified for three national events.
Concordia's 10 qualifiers would have competed in 21 events at the tournament, five more than the team participated in during last year's event. Sophomores Alia Hurst and Philomena Williams each qualified for a team-leading four events, tying Williams' school record set last year, as the team finished last year's season ranked No. 23 nationally.
"I'm proud that we qualified 10 students again this year to nationals," Joe Davis, the team's head coach, said. "I can see that we are picking up momentum and performing at a high level. We had four freshmen qualify for nationals in their first year, that's a great sign for the future."
Davis said he hopes the team remembers the work they put into their speeches and the progress that was made throughout the season.
"We've had incredible conversations this season all because each team member was committed to growing as an individual," he said. "Even if we didn't get to compete nationally, our messages were heard and will live on through our efforts to keep making an impact on others."
Senior Faith Greenmyer said the team has bonded throughout the season and everyone has been supporting each other during all of the changes taking place.
"We're a family," she said, "lifelong friendships and connections are made on this team."
Freshman Angelina Stinson, who qualified for nationals, said the team has welcomed newcomers, which helps foster a supportive culture.
"When we encounter new individuals interested in joining our team, we did not push them away," Stinson said. "We opened them into our hearts, no matter what they had to say."
Davis said he's proud of his team's hyper-inclusive approach, which helps provide many different students an opportunity to find their voice.
"I am most proud of our team's commitment to establishing a positive culture," he said. "This requires breaking down the negative interactions and growing from them. It can be a painful process, but this season our team has been striving to make an impact, not just establish an identity."
Davis and Erica Lamm, the team's assistant coach, have been encouraging the team to focus on their academic transition to online learning. Once they become comfortable and confident in their ability to finish the semester successfully, Davis said the team will start working toward next season's competitive goals. There are also plans for a virtual season wrap up, where the team can celebrate the season's accomplishments together, Davis said.
Speech team members qualified for the AFA national tournament include (listed by year, then alphabetically):
Seniors
Adam Hiles, Carlyle, Ill., Duo with Jacob Garrison
Taryn Thomas, Overland Park, Kan., Informative, Persuasive

Juniors
Malia Ebel, Billings, Mont., Impromptu, Extemporaneous
Jacob Garrison, Malcolm, Neb., Duo with Adam Hiles, Dramatic Interpretation, Prose

Sophomores
Alia Hurst, Fairmont, Neb., Informative, Program Oral Interpretation (POI), Prose, Dramatic Interpretation
Philomena Williams, Independence, Mo., Poetry, Prose, POI, Dramatic Interpretation

Freshmen
Spencer Humphreys, Boardman, Ohio, Prose, Duo with Sabrina Reed
Zipporah Johnson, Hastings, Neb., Impromptu
Sabrina Reed, Crete, Neb., Duo with Spencer Humphreys, Poetry
Angelina Stinson, Cheyenne, Wyo., Poetry, Persuasive