Speech team makes most of virtual opportunities
Published by Logan Tuttle 2 years ago on Thu, Feb 4, 2021 2:57 PM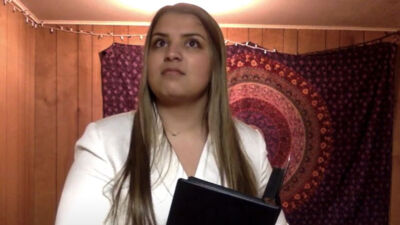 Alia Hurst, a a junior from Fairmont, Nebraska, won the poetry category at the Kansas in Nebraska Swing Jan. 19-24, qualifying her to compete in the event at the national tournament.
Concordia University's speech team is making the most of its opportunities in the young spring semester, provided by the virtual competition setting. In the last month, the team competed in virtual events from Nebraska to California, picking up new national qualifiers in the process.
Eight students have qualified to the American Forensics Association National Speech tournament in April, where they'll compete in 16 total events. Joe Davis, director of forensics, said he expects more students to qualify in the next couple months and the team should break its own record of 21 events qualified set last year.
Most recently, Jacob Garrison, a senior from Malcolm, Nebraska, won the prose category at the Southern Forensics Championship hosted by the Southern Forensics Governing Board Jan. 27-31, providing him another berth at nationals.
"I am honored to be able to use my voice, especially in this piece where I talk about how God is love," Garrison said. "I appreciate my coaches and teammates who help me refine the sharing of this truth."
The team earned multiple top finishes at the Kansas in Nebraska Swing tournament Jan. 19-24, hosted by Kansas State University and the University of Nebraska-Lincoln, where they faced 10 schools from the Midwest. Michael Grundstrom, a senior from Rapid City, South Dakota, placed third in individual sweepstakes, a category that awards individuals who compete in at least three events. Grundstrom competed in prose, dramatic interpretation and impromptu.
"Michael has been working hard all year to compete in multiple events at every tournament and his dedication has been a shining example to the team," Davis said.
Alia Hurst, a junior from Fairmont, Nebraska, won the poetry category and will compete in that event at nationals. Tristin Kinderknecht, a freshman from Salina, Kansas, earned top-3 finishes in extemporaneous and impromptu at the Kansas in Nebraska Swing.
At a tournament hosted by Concordia University Irvine Jan. 17-23, the team finished with the highest overall score for speech, beating out 10 other teams from the west coast that Concordia Nebraska doesn't typically compete against in the regular season, Davis said.
Additionally, Sabrina Reed, a sophomore from Crete, Nebraska, won dramatic interpretation, qualifying her to the American Forensics Association National Speech Tournament that will be held in April.
The Concordia speech team will compete virtually at the Nebraska Intercollegiate Forensics Association State Tournament Feb. 13. Last year, Concordia had the most students entered from any team at the competition, and Davis expects to have more participation this year.
"We are reaching a point in our competitive landscape where our team always has new teammates who compete, or students compete in new events throughout the season," Davis said. "This increase in participation within the team gives us a solid chance at team awards more often and it's great to see the level of competition continually being raised."