Sindts lean on foundation of faith built at Concordia
Published by Logan Tuttle 1 year ago on Wed, Mar 24, 2021 4:19 PM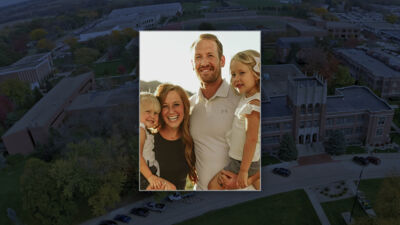 Nate and Faith (Ahlman) Sindt both graduated from Concordia in 2012 before moving to Windsor, Colorado. Nate is a data scientist in research and development at Nutrien Ag Solutions, and Faith is a hair stylist and hair educator at Aveda Salon. Carli (Smith) Lindeman '15, a Concordia regional ambassador based in Colorado, interviewed the couple about their experiences and how Concordia helped prepare them for their vocations and lives.
Carli Lindeman: What is a memory you have from Concordia that you think shaped you into who you are today?
Faith Sindt: I feel like my entire time spent at Concordia helped shaped me into the person I am today. I have maintained many relationships from the close-knit community that Concordia creates.
Nate Sindt: I don't have any specific memories, but I think the experience as a whole has shaped my life. Being surrounded with Christian teachers, coaches, and friends for your formative years is a blessing that I can't quantify. I can't imagine having a better college experience, honestly.
Carli: What did you major in? Where did your path lead you after you graduated?
Faith: I majored in education, K-12 physical education and health, and I started my career being a substitute teacher.
Nate: I got double major in biology and chemistry and a minor in math, so I pretty much lived in the Science Building. I got into graduate school at Colorado State studying at first biochemistry, then horticulture.
Carli: Were there any key/life changing moments you had at Concordia that led you to where you are today?
Faith: I truly feel that attending chapel and Praise on a weekly basis impacted my faith during a very pivotal time in my life where it's easy for your relationship with Jesus to take a back seat.
Nate: I'd say my friendships there were pretty life-changing. My roommate lost his mom to cancer while we were there, and I got to witness what a wonderful group of mentors and friends that were there to walk along side of him during a really tough time. My Concordia friends still get together at least once a year even though we live all over the Midwest. Obviously, I also met my spouse at Concordia and she is the BEST friend I made there!
Carli: What are you currently doing? And where? Is this what you thought your life would like when you attended/graduated Concordia?
Faith: I am currently a hair stylist and hair educator at an Aveda Salon in Fort Collins, Colorado. Although, I am not using the degree I received from Concordia I will be forever grateful for what I learned there and how it shaped me into the person I am today. It has made me a well-rounded person and no one can ever take away the education I received at Concordia.
Nate: I work in the Agriculture industry for Nutrien Ag Solutions as a data scientist in research and development of new products. I honestly didn't have any idea where my career would lead me when I left Concordia, but I am blessed that I love my job and it allows us to stay out here on the Front Range close to our family and friends.
Carli: Did you have a specific class/professor or experience at Concordia that made a difference in your life?
Faith: I felt like every single professor at Concordia truly cared about my overall well-being and went above and beyond what professors are called to do.
Nate: All of biology and chemistry professors were exceptional, but especially Dr. John and Dr. Kristy Jurchen, Dr. Connie Callahan and Dr. Joe Gubanyi. You could tell they just poured their hearts and souls into teaching and wanted you to be successful. I appreciate that so much about all of them.
Carli: What was your favorite part about attending Concordia?
Faith: My favorite part about attending Concordia was the lifetime relationships I made there and the quality Christian education I received.
Nate: Playing football and spending time with my friends. Now that I am almost 10 years removed, I like the small Lutheran Church—Missouri Synod Lutheran fraternity that we have connections all over the country, since Concordia's student body is so geographically dispersed. I like that I can almost look someone up from college in every region of the country that I visit.
Carli: Do you have any other things that were about of your Concordia story that you would like to share?
Faith: If you decide to attend Concordia University, not only will you receive a great education but you will truly be a part of a community that is committed to building relationships with Jesus Christ.
Nate: I hope and pray that my kids will choose to go to Concordia because of the formative experience that I had and I know that they would have as well.