Servant Leadership: Mark L'Heureux
Published by Amy Crawford 3 months ago on Thu, Sep 7, 2023 9:00 AM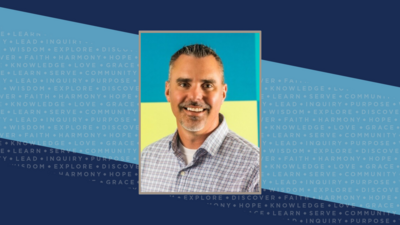 During the university's annual homecoming and alumni reunion weekend, the Concordia Alumni Association honors alumni and friends for their outstanding service and accomplishments. Mark L'Heureux received the 2023 Servant Leadership Award. The Concordia Nebraska Servant Leadership Award is given to an alumnus or friend of Concordia serving in or retired from a local or global mission field or ministry demonstrating Servant Leadership to the church and world.
Serving for more than 25 years in Lutheran education as a principal, education executive and director of schools, Mark L'Heureux '97 has provided a nurturing and loving learning environment for students, teachers and families that fosters academic success and personal growth, and most of all a love for Jesus.
L'Heureux earned a bachelor of science in elementary education with Lutheran Teacher Diploma from Concordia Nebraska, as well as a master of education in elementary school administration in 2000. He was a member of Singers as an undergrad.
"My time at Concordia was instrumental to my work today and the career path I've been privileged to have. Concordia gave me opportunities for some great life-long connections to people and places," he said.
He is married to his high school sweetheart Kathyrine "Kathy" (Gabrillo) '97, who has a bachelor of education in elementary education with Lutheran Teacher Diploma and a concentration in English. She was a member of Circle K and the Married Student Association. Kathy went on to earn her master of education in K-12 school counseling/professional counseling from Concordia University Wisconsin in 2008, and is working on her transformational leadership doctorate of education in higher education administration from Concordia University Wisconsin.
Mark has served as director of schools and facilities at Christ Lincoln since June 2015. He is also presently serving as chair of the Board of Regents for Concordia St. Paul. Prior to his current service he was also principal at Christ Lincoln, serve as education executive for the South Wisconsin District of The Lutheran Church – Missouri Synod, was principal at Immanuel Lutheran School in Loveland, Colorado, principal at Central Lutheran School in Newhall, Iowa, and a teacher at Hope Lutheran School in Pompano Beach, Florida.

Kathy served as a counselor for Lincoln Public Schools and as an adjunct teaching graduate-level counseling courses for Concordia Nebraska. She is currently the director of counseling services at Nebraska.
Mark and Kathy have four children: Ellie Johnson (married to husband Grant), Noah, Jack and Bowen.
"My experience was positive, mostly because of the people I met and the campus experiences that were available," he said. "I had great professors at both the undergraduate and graduate levels that were interested in my career path, and helped shape my program to fit my family's needs. While relatively 'small' in comparison to other universities, I was known by name and not by a number - truly a benefit and blessing."
Are you interested in discovering graduate-level offerings at Concordia Nebraska? Learn more here.